While most kayaking is done on calm, open water, whitewater paddling has more in common with its higher adrenaline river rafting cousin.
Few things can provide more excitement than whittling down a swollen river and careening around exposed rocks and rapids.
If that sounds like a great way to spend the afternoon, then you're going to want one of the best whitewater kayaks. But who wants to spend a whole day researching?
Good news: you don't have to. In this article, we'll be talking about some of our favorite boats to take into the whitewater and highlighting the best river running kayak in a variety of categories.
Whether you're looking for a cheap option, or a top-of-the-line playboat built for the most challenging rivers around, you'll find what you're looking for below.
Best Whitewater Kayaks
Best Whitewater Kayak for Beginners: Star Raven I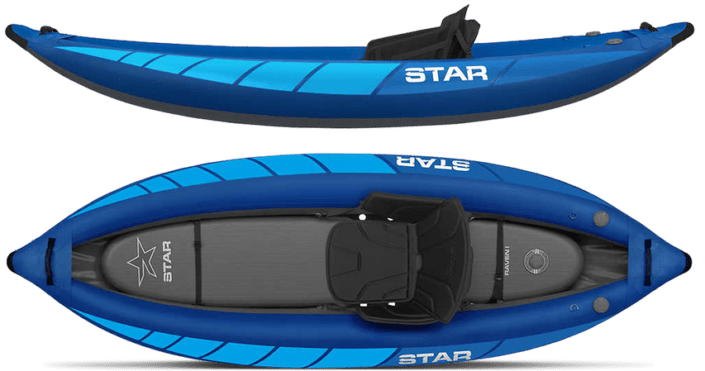 Cheap but reliable, the Star Raven I makes for a fine first whitewater kayak.
The appeal comes in its crossover value, able to handle both calm water as well as smaller whitewater river conditions.
Almost ten-feet long, the Star Raven I is disproportionately wide, measuring 38" across. This gives it a bulky appearance but it makes for an incredibly stable kayak, perfect for inspiring newcomers on rough waters up to Class III whitewater.
As an inflatable, storage and transportation is easier. This doesn't mean it's flimsy though. It will require you to be more cautious to ensure a long life, but on the water, the tough exterior can handle most bumps and collisions.
Great stability and easy to get in and out of
Weighs just 38 pounds when deflated
Self-bailing

Let's be clear, taking a sit-on-top through challenging whitewater can be dangerous.
They're just not designed to handle those types of turbulent waters. However, if you're going to be on mellow whitewater like a Class II river, the Frenzy from Ocean Kayak can get the job done.
This thanks to a long keel that helps with tracking and will help prevent you from turning sideways to the river.
It sits high enough above the water to keep at least some of the splashing waves off of you and the comfortable seat enables you to travel the riverbank in comfort.
It's more versatile than boats designed specifically for whitewater and can be used for a variety of other activities such as recreational paddling and even fishing.
Not specifically designed for whitewater, only for mellower rivers
Heavier for a single at 81 pounds
Versatile boat capable of fishing and recreational trips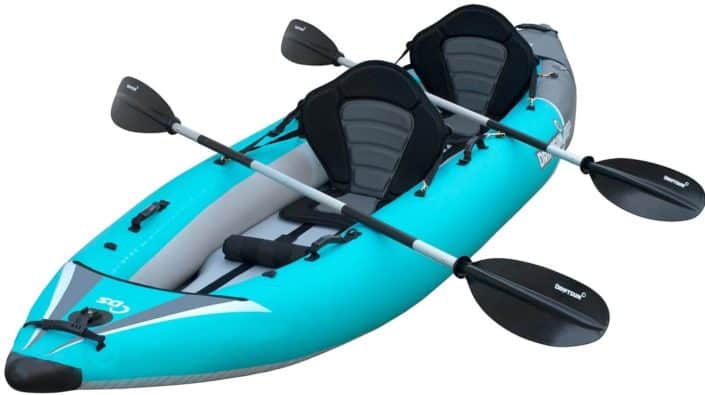 Long and sturdy with plenty of room for two people, the Driftsun Rover 220 is a unique and impressive whitewater kayak.
It's a self-bailing boat that does a great job of keeping the water out while the inflatable design is easy and intuitive.
Once you have the hang of it you can expect the inflation process to take less than ten minutes.
It has a huge load capacity of 600 pounds and enough space to bring along some extra gear for an overnight trip.
Despite the length (12.5') and big load capacity, the Rover 220 remains incredibly light, weighing just 28 pounds.
They've also included a camera mount on the bow so you can capture all of the day's adventures.
Great load capacity to weight ratio
Durable inflatable that's easy to set-up
Self-bailing drain plugs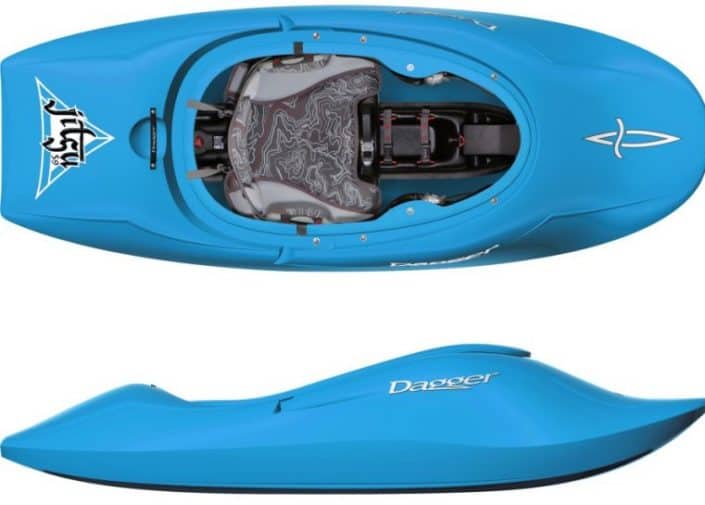 With hard chines and a short, stubby design, the Jitsu 6.0 from Dagger shines in tight spots thanks to its incredible maneuverability.
With hard chines and a planing hull, it skims over the water and in the hands of an experienced paddler can be pushed through some truly challenging waterscapes.
It weighs just 38 pounds and measures six feet in length making it easy to carry to and from the water.
Don't expect it to track very well on that short keel however and newcomers may find the narrow 27" hull a little tippy when they first climb in.
With practice though the Jitsu 6.0 is responsive and an absolute joy to paddle along swift-moving rivers.
Short, light, and easy to transport
Can feel unstable at first
No storage space to speak of
How to Choose the Best Whitewater Kayak for You
Experience Level and River Classes
Not all whitewater trips are created equal.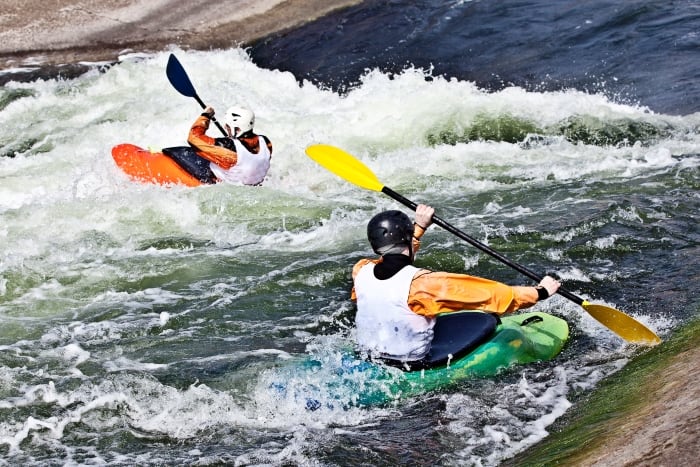 To give you an idea of how challenging the river will be to navigate, rivers are broken down into six categories.
More challenging conditions should be reserved for those with a lot of experience who have spent several years in the seat of a kayak.
If you're just getting started, begin your whitewater career with Class I and II rivers.
Class I is essentially a slow-moving brook with minimal if any turbulence. This is the perfect place to get acquainted with your river kayak and master your balance and steering.
Class II will give you a few rapids and require a few turns, but nothing too challenging.
As you move into Class III and above your experience and skill become more important. If it's your first time on a Class III river, go with someone that knows the river well. If possible walk the stretch that you'll be paddling first to get a lay of the land.
Bear in mind that a river's classification is not set in stone. River conditions can change with the time of year, rainfall, and in some areas, the amount of snowmelt.
This can make a river "swell" and increase the degree of difficulty above what it usually is. Always get the most updated information before setting out.
Proper safety gear should be worn no matter the difficulty of the river or your experience level. A helmet and life jacket are basic requirements while spare warm clothes and a first-aid kit are also important.
Sit-In vs. Sit-On-Top Whitewater Kayaks
In all likelihood, whitewater kayaking will involve a sit-in kayak.
With sit-in boats, you sit inside the kayak with the deck covering your legs and lower torso. The cockpit is narrow and can be covered with a spray skirt to keep splashing water out.
Because you sit so low in the boat, sit-in kayaks are very stable and can have a narrower keel than sit-on-top boats. This allows them to be maneuverable and track well through rough water which is vital when maneuvering whitewater.
A sit-on-top kayak can be used on mellower rivers and maybe some Class II rapids, but their design makes them better for recreational and fishing trips than adrenaline-fueled journeys down the river.
If you do use a sit-on-top kayak, choose one with highly-rated stability and maneuverability. It should also be self-baling with scupper holes so that any water that inevitably comes over the side can drain out and not swamp your boat. 
Inflatable vs. Hard-Sided Whitewater Kayak
Don't let anyone tell you that an inflatable kayak isn't worth your time.
While their reputation may be that they're leaky and flimsy, recent improvements have closed the gap between inflatable and hard-sided boats.
Today most inflatables have multiple air tubes in the event that one does puncture the boat will stay afloat until you can get to shore. But even on bumpy rivers, this is unlikely thanks to their tough vinyl exterior and stitched seams.
That's not to say that inflatables provide the same performance at a lower price. Even well-inflated boats lack the rigidity to handle turbulent waters as well as a hard-sided boat.
Maneuverability and overall performance won't be as good, and designing a sit-in inflatable that remains rigid enough to stretch a spray skirt over the cockpit isn't easy.
And while the durability is better than you may have thought, it still won't stand up well in Class III rivers or higher where the chance of a collision at high speed is greater.
Inflatables are a cost-effective introduction to the sport and a great way to get comfortable on the water while needing minimal storage space.
Best Whitewater Kayak – Conclusion
With the challenges of whitewater paddling, it's important that you equip yourself with a boat that you can rely on.
Despite its compact design, my favorite remains the Dagger Jitsu 6.0. This boat is shorter than I am, but there's no beating the maneuverability and confidence it gives me when ripping past exposed rocks and through eddies. Just don't be surprised if it takes you a few trips to get your balance.
For newcomers or those on a tighter budget, the Star Raven I provides a good introduction without breaking the bank. Wide and stable enough to give newcomers confidence, it can still handle Class III whitewater.
What do you think of our list? What's your favorite boat for tackling whitewater? Let us know in the comments below.