Specialized, challenging, and with the promise of a serious adrenaline rush, there's little that can compare to the thrill of kayak surfing.
But this difficult branch of kayaking requires you to have the best gear and the proper kayak to get the job done.
In this article, we've compiled what we think are some of the best surf kayaks on the market today.
So whether you're looking for a cheaper option or a boat that can stand up to the biggest waves, you'll find the right kayak waiting for you below.
Best Surf Kayaks

A versatile kayak capable of much more than just surfing, the Frenzy from Ocean Kayak can be used as a fishing or recreational boat with the ability to ride the waves home.
A long central keel allows this 12-foot boat to track surprisingly well for its length and gives it an advantage when catching the waves over other recreational style boats.
It sits high enough above the water to keep at least some of the splashing waves off of you and the comfortable seat enables you to travel the shoreline in comfort.
A little heavy for a single at 81 pounds
Large open-air storage in the bow and stern
Comfortable, adjustable seat

If cost-effectiveness and speed are top priorities, look no further than the Magnum 72.
Specifically designed for surfing, the Magnum 72 is longer than a lot of its competitors at just under eight-feet.
This gives the Magnum 72 adrenaline-pumping speed coming down the crest of a wave and a rip-roaring journey back to the beach.
The cockpit is wide to minimize restriction while paddling and I love the floating backrest that provides premier comfort.
Add in the adjustable foot braces and comfortable thigh braces and you have a high-performing, well-designed surfing kayak.
Long, narrow hull for quick acceleration
"Suregrip" thigh braces enhance turning ability
Comes with grab loops and a security bar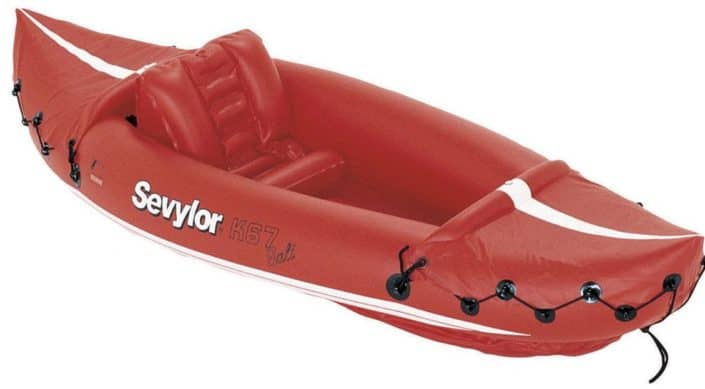 It'll be tough to coax the performance you need for challenging surf conditions out of an inflatable, but the Sevylor Bali 1-Man has a lot of the features you'll need to make that happen.
Most importantly is the removable skeg while the short keel gives you the necessary maneuverability to negotiate this turbid environment.
It's not self-bailing, so you'll have to be careful with swamping the boat, but for smaller waves and less intense environments, it handles itself well for an inflatable.
250-pound load capacity
Weighs just 20 pounds
Skeg allows for better tracking and performance in rough conditions

More sporting than the Magnum 72, the Astro 54 is more about pulling tricks than racing down the waves.
The hull's beveled edges give you unmatched control of your kayak with fantastic maneuverability and the responsiveness needed to take on the most challenging waves.
The cockpit is more compact but still efficiently spaced and designed with the floating backrest that Riot Kayaks is known for.
This is a smaller boat however and taller paddlers may find themselves having trouble pretzeling themselves into this narrower cockpit.
Prospective paddlers weighing more than 180 pounds may prefer a bigger boat like the Magnum 72.
Limited size, best for small paddlers
Scupper plugs included
Great maneuverability and responsiveness

A little more versatile than some of the other "true" surfing kayaks on this list, the Thunder 65 has the performance and specifications to handle white water kayaking as well as surfing.
Originally designed for the river, paddlers have found the planned hull more than capable of catching waves as well, making it a good boat for beginners who may want to try their hand at both.
The cockpit provides a secure fit that gives you a little more stability than many boats in this category that can sometimes feel more tippy than recreational or touring kayaks.
The Thunder 65 comes with a rudder instead of the commonly used tracking fins which can be an issue in shallow conditions and may lead to it being removed to avoid damaging it on the sea bottom.
One of the more stable surf kayaks
Able to hand whitewater and waves
May not be able to use rudder while surfing
How to Choose the Best kayak for surfing
surf Kayak Specifications
Kayak surfing is very distinct from other, more traditional forms of kayaking like touring, recreational, or fishing. Most kayaks are not designed for the turbulent, fast-changing environment you'll find in the surf zone and you'll need to choose your kayak carefully.
The best surfing kayaks have a planned hull with little displacement. This allows them to cruise easier over the top of waves instead of trying to plow through them like a traditional sea kayak would.
Boats that keep the bow and stern close to the water are also advantageous. Referred to as a kayak's "rocker," keeping the bow and stern near the water may diminish maneuverability, but will help the boat pick up waves and stay on course.
Strength and Height of the Waves
Whether or not you need a surf-specific kayak will have a lot to do with how big of waves you plan on riding. The bigger the waves or more closely "stacked" they tend to be at your favorite beach, the more technically savvy and experienced you should be before venturing out.
Be aware of other hazards before hitting the water. Submerged rocks and reefs can be fatal obstacles and you should always wear a white water helmet when surfing. Look for signs along the beach warning of undertows, riptides, and other tidal hazards that can pull you out to sea in the (likely) event that you wipeout.
Sit-In vs. Sit-On-Top surf kayaks
If you're going after serious waves, you should really be paddling a sit-in kayak.
Sit-in kayaks have the advantage of being more streamlined and narrow, giving the paddler better control and maneuverability.
Because sit-in kayaks have a defined cockpit that protects your legs and lower torso, it's easier to keep waves from flooding the boat and swamping it. This can be further prevented by wearing a spray skirt that wraps around the cockpit coaming to keep any sloshing water out.
Since you're sitting on top of the kayak's hull and closer to the water, sit-in boats are more stable since your center of gravity is lower. This gives you better stability despite their slimmer design and easier to steer and maneuver. Responsiveness is better which is critical in the constantly changing surf environment.
The seats on most sit-on-top kayaks place you higher above the water. While this may help keep some of the waves off you, it also means the kayak must be wider to maintain stability since your center of gravity is higher.
This hampers the boat's responsiveness which can make them tough in surfing situations. Since most of these boats are built with stability in mind, the hulls are built more for displacement than for planing across the waves. If you do use a sit-on-top it should only be in mild conditions with minimal risks.
Inflatable Vs. Plastic surf kayaks
Like comparing sit-in and sit-on-top kayaks, there's a big difference in performance and safety between inflatable and plastic kayaks.
Plastic kayaks provide much better rigidity on the water which makes them better able to absorb crashing waves. This greater versatility means plastic boats with planned hulls can ride waves instead of "sitting" down in them like many inflatables will.
Like sit-on-top kayaks, if you choose to try surfing in an inflatable kayak, I'd recommend only doing so if the conditions are right and the waves aren't too big. Installing additional features will also help.
If your kayak has scupper holes, bring along some scupper plugs so that water doesn't fill the boat as easily. You can also try installing a tracking skeg or rudder. This will help you stay on course when riding a wave instead of turning you perpendicular to it and causing you to capsize.
Surf Kayak – FAQ
What Is the Best Kayak to Surf With?
The best kayak to surf with is the Ocean Kayak Frenzy, because of its great maneuverability and tracking that allows you to take the waves easily.
What is the Best Beginner Surf Kayak?
The best beginner surf kayak is the Riot Kayaks Thunder 65 because it gives you more stability than most surfing kayaks. This means that you'll find it easier to handle and you won't be scared of capsizing.
What Makes a Good Surf Kayak?
A good surf kayak is short, maneuverable, and with a planned hull that allows you to go over the waves instead of trying to plow through them like an ocean kayak would.
best surf kayak – Conclusion
For the biggest waves and the toughest conditions, you'll want the best surfing kayak for the job.
In this case, it's an easy choice. Riot Kayaks has planted its flag on the surfing kayak mountain top with several models you can take into the waves with confidence.
But for me, I'd have to say my favorite is their Astro 54 design. Despite being a little cramped, the boat has such great maneuverability and catches waves so easily that I can't help but overlook the smaller cockpit.
What do you think of the list? What are your favorite waves to catch some waves? Let us know in the comments below.