Any kayak can serve as a fishing platform. But if you take your angling seriously, you want something you can stand up in and maximum your casting distance. And if that's the case, you want the best fishing kayak to stand up in.
In this article, we'll highlight some of the best stand up fishing kayaks in a variety of categories so you can hit the water in the best model for you.
Best Stand Up Fishing Kayaks

At thirteen feet long and 93 pounds, the Big Rig lives up to its name.
Especially popular among larger and heavier paddlers, Jackson has produced a boat that people of all shapes, sizes, and flexibility can fish from with confidence.
Despite its size, the Big Rig is a joy to paddle and very responsive, handling more like a smaller recreational kayak.
It's not a very fast boat, but the stability and support bar more than make up for it.
It can handle most lakes, rivers, and protected saltwater bays and has the storage capacity for longer trips.
One of the best kayaks for bigger paddlers whether they want to fish or not
450-pound load capacity
Support bar makes standing easier and safer
Best Overall for Smaller Cars: Jackson May Fly

A little lighter and shorter than the Big Rig, the May Fly is nevertheless a big and stable fishing kayak.
Fly fishermen seem particularly fond of the May Fly and impressed at how fast it is and how well it tracks.
Stability is fantastic with some paddlers able to launch while standing instead of squeezing into the seat and standing up later. If you are sitting, the seat provides great lumbar support.
Like most in the class, there's plenty of storage space both open-air and watertight to go along with strategically placed pockets for fishing tackle.
One of the more expensive stand up fishing kayaks
Tons of storage including easily accessible pockets
Great for fly fishing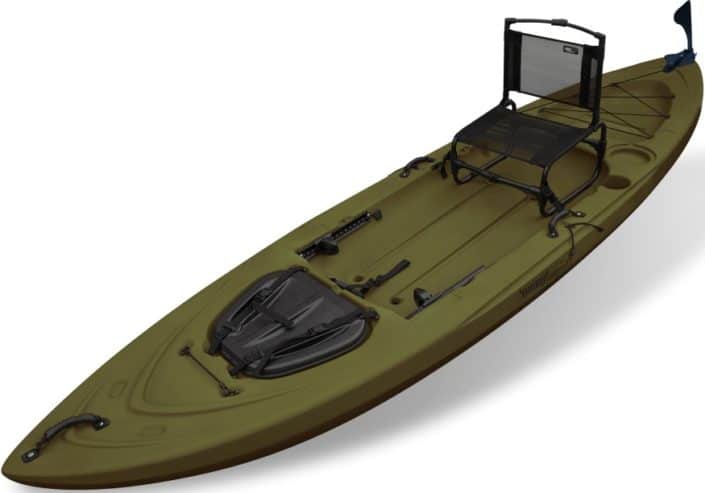 A little smaller than the Jackson designs, the Amigo is lighter both on the water (75 pounds) and on your wallet.
Once underway, the Diablo Amigo has a competitive top speed which makes it a great choice if you have some ground to cover.
Wind and waves do cause some tracking issues,, though they can be alleviated to an extent by installing a skeg.
Stability is what you'd expect thanks to the tri-hull design. This also lets the Amigo to maneuverable in really shallow water without running aground
Great bang for your buck, but lacks angling customization options
Preferred kayak for shallow water
Skeg sold separately which improves tracking

The ultimate in fishing kayaks, this pedal kayak from Hobie is packed with accessories.
At almost 14-feet long and weighing 120 pounds, it's not the easiest kayak to transport, but when it comes to fishing there's not much it can't do.
In addition to the six rod holders, it's got several storage options including a removable bucket where you can store your catch.
Reassuring stability on the standing deck is enhanced by a lean bar that supports you while you cast.
If you don't feel like paddling, the pedal drive system allows you to propel the kayak like a bicycle leaving your hands free to cast or troll.
Requires more maintenance than traditional kayaks
One of the more expensive kayaks
Can handle mild chop and wind
Faster than a paddle kayak
Quieter over the water when pedaling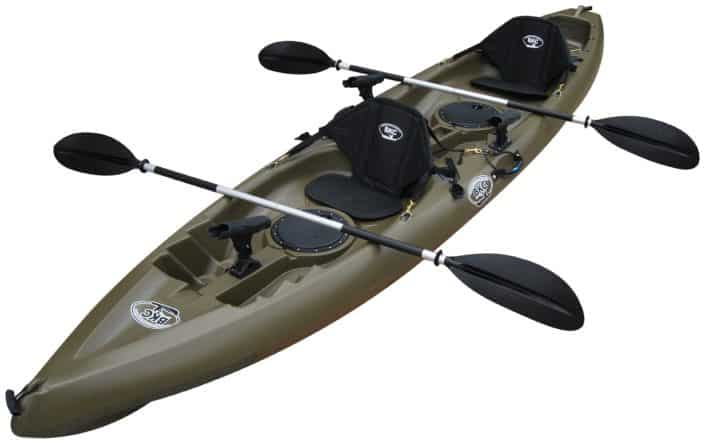 The New York based Brooklyn Kayak Company prides itself on easy to use and accessible kayaks and their stand up tandem is no different.
A pair of paddle holders and seven rod holders keep your hands free and let you bring tons of gear.
Watertight storage space lets you bring more sensitive gear and at 68 pounds it's noticeably lighter than most boats in this category.
You really do need two paddlers in order to safely handle it though which does limit its flexibility to an extent.
Comfortable and molded seats but they can cause stability issues
Weight capacity (440 pounds) limits it to day trips
Lightweight and easy to carry
Two paddles included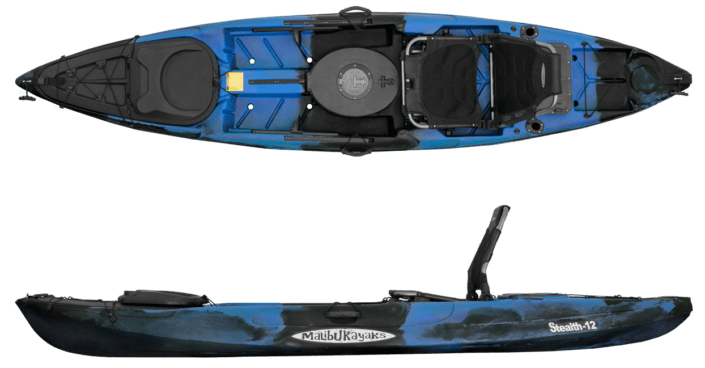 A big and versatile boat, the Stealth 12 from Malibu Kayaks is large enough to accommodate a lot of gear including dive tanks.
It only weighs 60 pounds, but at 33 inches wide it has some of the best stability in the class. If standing and casting makes you nervous, this is the boat for you.
Three storage areas including two watertight places give you room for your gear.
A central console "bait tank" is easily accessible from the stable platform and four rod holders ensure that your fishing tackle and poles are always close at hand.
No seat is included however, so that will have to be an extra purchase. The one nice thing about this though is you can pick the seat that's most comfortable for you.
Fantastic stability for peace of mind
Lots of room to store gear and fishing poles
450-pound load capacity should be enough for multi-day trips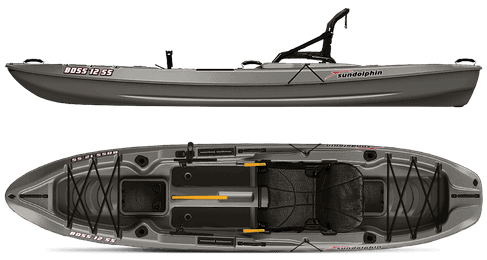 Because of the size of most stand up fishing kayaks, they're usually pretty expensive.
But one of the cheapest ones that you can still feel comfortable standing up in is the Boss SS from Sun Dolphin.
You won't find much in the way of customization options and I wish they'd designed it with at least a couple of rod holders.
For the casual weekend paddler who sees fishing as more recreational than a serious passion, the Boss SS is light on the checkbook while still allowing you to scratch that angling itch.
It's light enough at 44 pounds that many paddlers will be able to carry this ten-foot kayak on their own.
Small load capacity (250 pounds) may be problematic
The cheapest stand-up kayak you can feel confident in
Foot braces are mounted along the side so they don't get in the way when standing
How to Choose the Best Stand Up Fishing Kayak
Are You Experienced or a Beginner?
If you're unsure how much you'll use your kayak or are a newcomer, you may prefer a cheaper kayak in case you end up not enjoying the sport.
If you've been on the water before and have a better idea of how much fishing you'll do, it's best to go with one of the high-performing Jackson models like the Big Rig or May Fly.
If your budget is tighter but you still want something more advanced than the Sun Dolphin Boss, the Diablo Amigo is a good portable mid-range option.
And if price is no object or you're a passionate angler, a pedal kayak like the Hobie Mirage Pro 14 Angler represents the cream of the crop. They're pricey and can be hard to transport, but on the water you can move quicker and quieter while enjoying all the bells and whistles of a high-end kayak.
Dimensions
This will depend on a variety of factors. Like your experience level, what you plan on doing may dictate the necessary dimensions for your kayak. Longer and narrower boats can usually move faster and the additional storage space room makes them better for longer trips.
Stability is a key factor though, especially if you plan on standing and casting, and a boat with a wider beam will provide this. When in doubt, go with a flatter hull that is better able to absorb your moving and casting at a higher center of gravity without tipping over.
Many fishing kayaks have a "pontoon" style hull or something similar that makes them even harder to capsize regardless of the water conditions.
Storage Capacity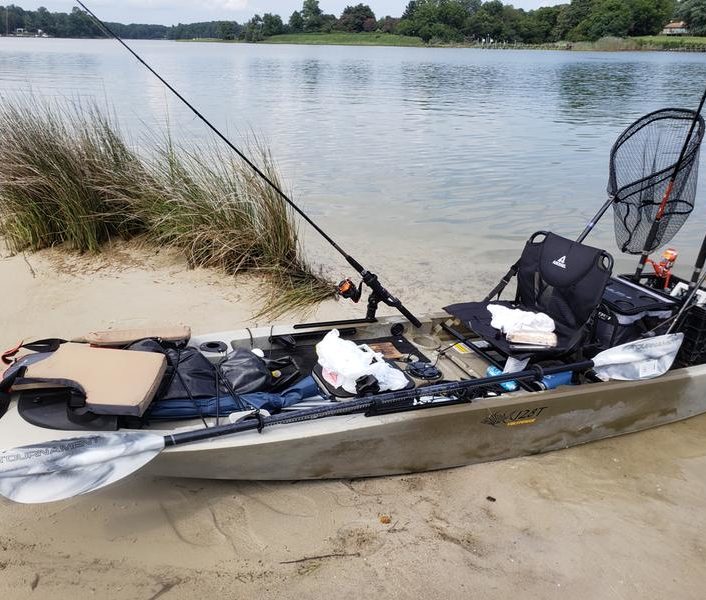 Make sure that the boat has enough space and a high enough load capacity for all your gear. Exceeding your boat's load capacity will make it tippy and less responsive.
If you plan on doing multi-day trips that will require you to bring camping gear, make sure that your boat has at least one watertight storage hatch. There are few things more demoralizing than crawling into a wet tent and sleeping bag at the end of a rainy day.
Short or Long Trips
In addition to ample storage space and load capacity, longer trips require a few other necessities.
If you're going to need to paddle a substantial distance to reach your fishing hole, make sure that your boat has a comfortable seat. Preferably it will be adjustable and feature plenty of padding on the seat and the back. Adjustable foot pedals and thigh braces can also be useful.
A rudder or skeg will help your boat track through any choppy water, improve overall efficiency, and cut down on paddle time.
Other Features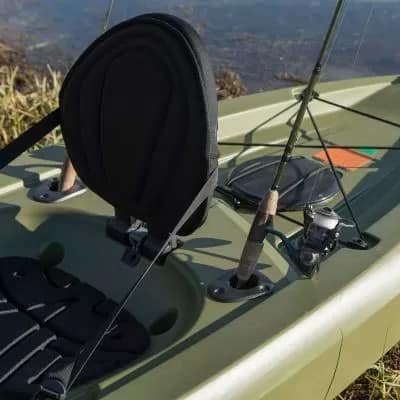 Today most high-end fishing kayaks are stocked with customized features. Often referred to as "accessory mounts" or "gear tracks," these allow you to install kayak anchors, GoPros, fishfinders, or a GPS to improve your catch rate.
Also look for rod and paddle holders to keep unwieldy gear in place as you move to and from your fishing spot.
Paddle Vs. Pedal Kayaks
Paddle kayaks refer to traditional kayaks that require a paddle to move through the water. There are many high-end paddle kayaks on the market with no shortage of custom options that allow you to do single-day or multi-day adventures.
But the best of the best are the pedal kayaks. While you can use a paddle, they also have a "pedal drive" system that allows you to propel yourself over the water like a bicycle. This allows you to move faster and have your hands free to cast as you move.
Since you don't have to worry about a splashing paddle, they also move quieter and there's less chance of disturbing the fish. These designs are longer, bigger, and heavier than paddle kayaks and have a steeper price tag.
The pedal drive requires more maintenance too since there are so many moving parts. This is especially important in saltwater where the gears can corrode and rust.
SUP Vs. Stand Up Kayak
The line between stand-up kayaks and SUPs (stand-up paddleboards) has begun to blur in recent years.
Both can be paddled from a standing position, but for fishing a kayak is probably the way to go. They're generally larger with more storage space for your gear and your catch. And since you have the luxury of sitting and paddling too, you can usually move faster and be more maneuverable.
Color Choices
Many kayak designs come with a wide range of color options to choose from. In many cases, it doesn't matter what color you select.
But if you plan on going out in remote locations for long periods of time, I'd recommend a bright color that stands out in the event you get lost or need assistance.
Always let someone know where you're going and what color your boat is so they can pass on this important information in the event of an emergency.
Conclusion
We're lucky to have reliable stand up fishing kayaks available in a variety of price ranges. No matter your budget or interest level, you can find the right boat for you with the proper research and leg work.
If you want the absolute best, there's no beating the Hobie Mirage Pro 14 Angler with its awesome pedal drive system and host of extra features.
The Jackson Big Rig is a great alternative for smaller budgets, with great stability that can handle paddlers of all sizes.
What do you think of our list? Share your feedback and fishing stories in the comments below.