The most common fishing kayak design, sit-on-top kayaks are stable, accessible, and there's a lot of options on the market. No matter your price range, you can find a reliable kayak to satisfy your fishing fantasies.
But which is the best sit-on-top kayak?
In this article, we'll go into exhaustive detail on a number of these kayaks in a variety of kayaks so you can be sure to find the perfect design for you and your lifestyle.
Best Sit-On-Top Fishing Kayaks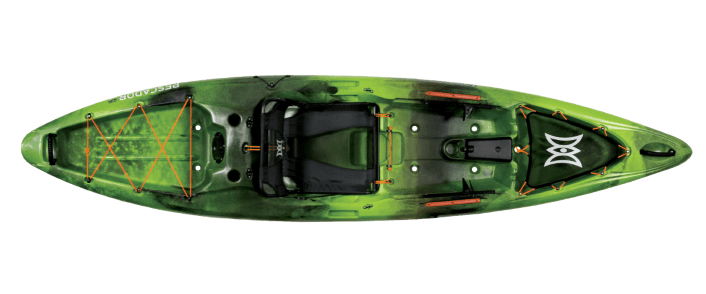 Long enough with the stability to handle ocean paddling, the Pescador Pro 120 is a good mid-range fishing kayak with the versatility for weekend trips over most water conditions.
It's lighter than a lot of 12-foot kayaks which makes transportation and carrying easier, but does cost it in the load capacity category as it can only carry up to 375 pounds.
Multiple rod holders and accessory mount options give you the customization opportunities that anglers crave while the adjustable seat has received many positive reviews.
Versatile design with comparable stability and maneuverability to the Sea Ghost 130
Different mounts and gear tracks allow for customization
No watertight hatch or central console
Read our detailed review of the Perception Pescador Pro 12.
2. Best Sit-On-Top Fishing Kayak for Big Guys: Vibe Sea Ghost 130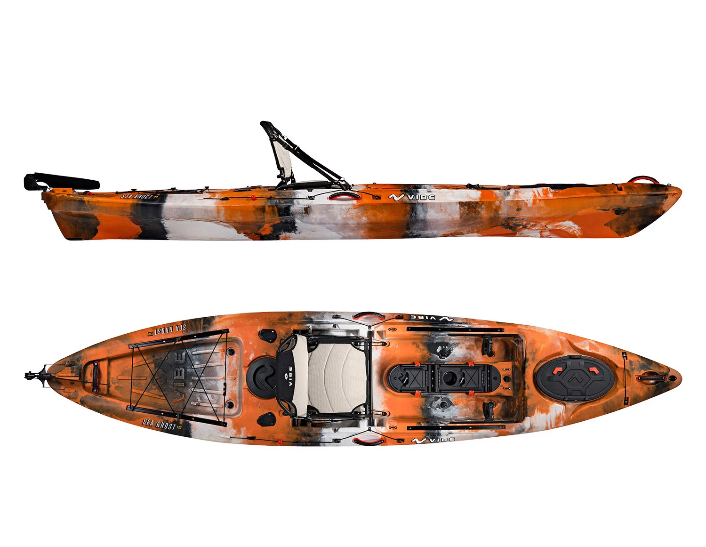 After a big revamp in 2019, the flagship model of the fishing-centric Vibe Kayaks is back and better than ever.
As the tagline suggests, the Sea Ghost 130 melds speed and stability thanks to a tapered keel and well-defined chines that feel stable underneath. This along with the huge 550-pound load capacity makes it a great choice for anglers of all shapes and sizes.
For fishing, you'll be hard-pressed to find another boat at this price with as many custom features.
The Sea Ghost 130 sports multiple gear tracks to allow you to outfit your boat however you see fit. A central console provides accessible dry storage and a fish finder can be installed on top of it.
Add in the self-proclaimed "hero seat," one of the most comfortable kayak seats out there, and you have a boat capable of dynamic conditions with all of your gear close at hand.
A host of custom options
Able to handle mild ocean conditions
Large bow storage hatch
Read our full Vibe Sea Ghost 130 review.
3. Best Sit-On-Top Fishing Kayak for Beginners: Sun Dolphin Journey 10

Lightweight and maneuverable, the Sun Dolphin Journey 10 is a budget kayak that's good for beginners and more experienced paddlers alike.
It doesn't have the customization options that a boat like the Vibe Sea Ghost 130 has, although it does have three rod holders, two flush-mounted and another in front of the cockpit.
Performance-wise it's satisfactory, though the shorter keel means that tracking can be an issue when the wind and waves pick up.
But it's easy to paddle and has great maneuverability that newcomers to the sport will appreciate.
It's light and portable for a hard-sided kayak with minimal storage space required and an easy carry from the car to the water.
One of the lightest and shortest fishing kayaks for easier transportation and storage
Impressive maneuverability to get in and out of tight spots
Small weight capacity limits it to basic day trips
Read our full Sun Dolphin Journey 10 review.
4. Best Budget Sit-On-Top Fishing Kayak: Tamarack Angler 100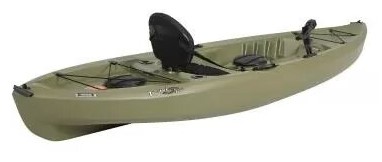 A basic fishing kayak that performs pretty well despite its cheap price. Between the short ten-foot keel and the reasonable 58-pound weight, it's not too hard to transport or store.
It's a maneuverable kayak with a comfortable seat and multiple footwells that allow paddlers of all sizes to find a comfortable position.
The stability is impressive, though I don't think I'd be comfortable trying to stand and cast from it.
The wider hull does limit the top speed, and this along with the smaller 275-pound load capacity makes it better for shorter trips.
To make it cheaper, it doesn't have a lot of the bells and whistles that more expensive kayaks offer, but there are three rod holders built into the hull.
275-pound load capacity may not be enough for some
Stability chine rails improve stability
Paddle holder keeps your hands free while paddling
Read our full Tamarack Angler 100 review.

A larger load capacity than many boats this length at 325-pounds, the Tarpon 105 from Wilderness Systems has a few more features than some of the cheaper 10-foot kayaks on this list.
It doesn't have dedicated fishing pole holders, but it does have multiple customizable attachment points where you can easily add one along with other fishing features.
The Tarpon 105 has two dry hatches, a bigger one in the stern and a smaller one in the bow.
Performance-wise, it's at home in light surf and calm water, but it probably won't handle choppy, windy ocean conditions very well.
Best in calm water, though it can be used in protected saltwater
Multiple customization points
Adjustable foot braces
6. Best Tandem Sit-On-Top Fishing Kayak: Vibe Skipjack 120T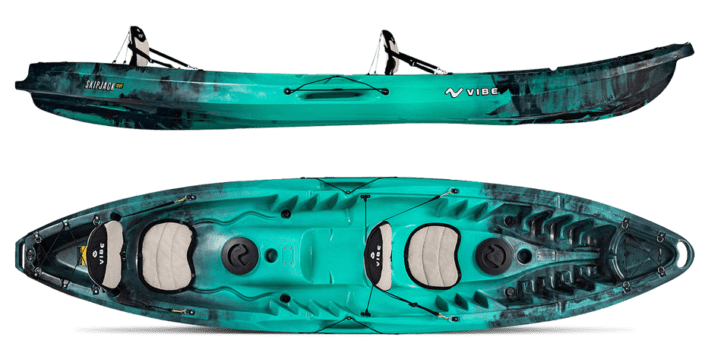 A beast of a kayak, the Vibe Skipjack has a spacious deck with plenty of room for both paddlers.
A smaller seat has been installed in the middle that will fit a child or a well-behaved medium-sized dog. All that space does make it on the heavy side (72 pounds).
It has all the customization features that Vibe kayaks is known for allowing you to outfit your boat any way you want.
This model has four gear tracks, though I wish there were more than the two rod holders in case both paddlers want to fish.
Two watertight storage hatches, a spacious deck well, and a load capacity of 500 pounds makes the Skipjack a versatile vessel capable of multi-day trips.
Two paddles included
Lots of storage space
Plenty of customization options
7. Best Lightweight Sit-On-Top Fishing Kayak: Vibe Skipjack 90

One of the shortest Vibe kayaks, the Skipjack 90 still manages to pack a lot into its 9-foot keel.
Weighing just 46-pounds, it's still made of the same durable polyethylene plastic of heavier, more cumbersome models.
While it is still a stable boat rated for mild ocean conditions, the shorter keel does mean tracking will be more difficult than it would in a longer vessel.
For fishing, you have a quartet of rod holders at your disposal, storage trays, and a mount for a fish finder. Storage is a little leaner with no watertight hatches, though there is a big "tank well" style stern hatch for a cooler or tackle box.
300-pound load capacity may not be enough for some anglers
Multiple footrest positions
One of the lighter, easiest to transport hard-sided kayaks

The ultimate in fishing kayaks, this pedal kayak from Hobie is packed with accessories.
At almost 14-feet long and weighing 120 pounds, it's not the easiest kayak to transport, but when it comes to fishing there's not much it can't do.
Featuring six rod holders, the Pro Angler 14 also has a specific "live tank" storage area to keep either live bait or your catch. 
Incredibly stable, you can stand and cast with confidence in a variety of conditions from the standing deck while a lean bar ensures you keep your balance.
Faster than a traditional kayak, it's also quieter when you're pedaling allowing you to sneak up on fish.
Be prepared for more upkeep and maintenance to keep your Mirage Pro Angler 14 in prime working condition.
Requires more maintenance than traditional kayaks
One of the more expensive kayaks
Can handle mild chop and wind
Faster than a paddle kayak
Read our full review of the great PA 14.
How to Choose the Best Sit-On-Top Fishing Kayak
Pedal vs. Paddle Kayaks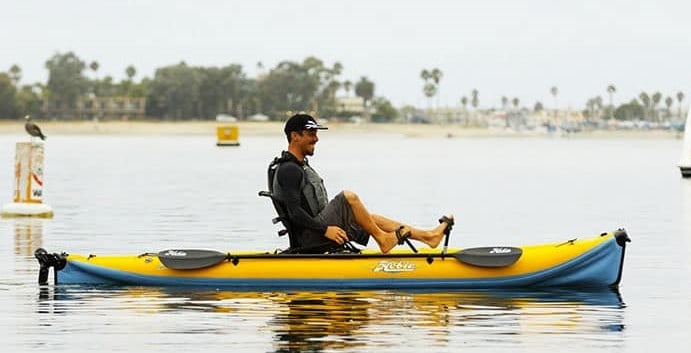 A newer development to the kayaking world, pedal kayaks feel more like a skiff than a traditional kayak. Bigger, longer, and wider, pedal kayaks are propelled with your feet using a system similar to a bicycle.
This makes pedal kayaks faster while their size and stability allow them to go into water you wouldn't dare in a smaller boat. Be ready to pedal for a long time too since you won't tire as quickly.
These boats don't come cheap though, so be sure you'll get your monies worth before purchasing.
The pedal drive system also requires more maintenance and technical know-how to keep it functioning.
Storage Capacity
How much and what type of storage space you'll need will depend on what sort of trips you plan on doing.
If you're planning on multi-day adventures, choose a boat with at least one watertight storage hatch to keep your camping gear dry.
Many fishing kayaks have a smaller dry hatch in the kayak which is a great place to keep personal items and serves as a common place to install a fishfinder of GPS.
Check the boat's load capacity, you can find this under its specifications. This refers to how much weight the boat can carry (including you). This will give you an idea of how much gear and how long you can be out. And if you weigh 300 lb or more, here are some great kayaks for big guys.
Keel Length
The length of the keel is correlated with a kayak's speed. The longer the keel, the faster the kayak. Longer boats will track better through windy or choppy conditions and will maintain course even if the elements are hitting you broadside.
Shorter boats will be easier to handle with better maneuverability for tight quarters and are usually better for river travel. They're best reserved for calm conditions though like mellow rivers and lakes.
Short or Long Trips
One of the first questions you need to answer is how long you plan on being out. If your ambitions are limited to casual weekend afternoons on the lake, a short-keeled boat with minimal storage space will probably work.
But if you're going to be covering serious ground and out for the weekend or longer, look for a faster boat with a long keel and plenty of dry storage space. The longer you're paddling the more comfortable your seat should be with a padded back and bottom.
If your journey will require open water crossings or take you away from the shore, make sure your boat is capable of handling unpredictable conditions.
Installing a rudder or skeg will improve your tracking and maneuverability. They can be a difference-maker in windy or choppy situations.
Other Features
Today most mid-range fishing kayaks have plenty of custom features that allow you to outfit your kayak however you want.
These "gear tracks" can accommodate additional fishing rod holders, GPS devices, fishfinders, and other gadgets useful for catching fish. 
At a minimum make sure your fishing boat comes with a rod holder or two and a spot to secure your paddle while you're fishing.
Tandem vs. Single Sit-On-Top fishing Kayaks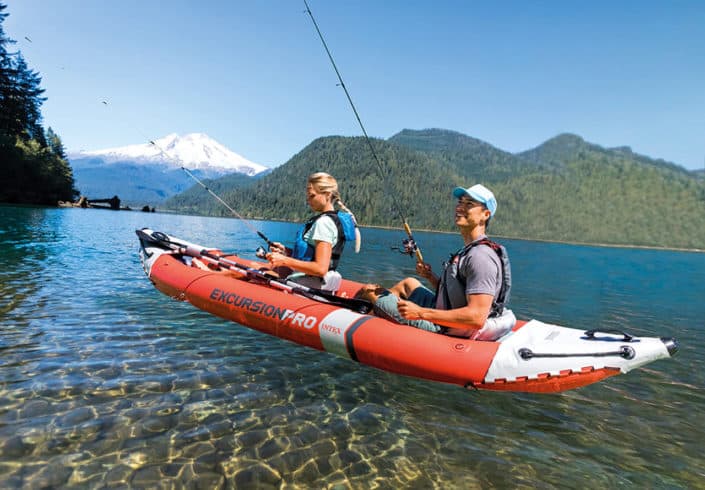 If you foresee doing most of your paddling with a partner, it may be worth investing a little more in a double kayak.
These have longer keels allowing for a better top speed, are more stable, and are easier to transport than a pair of singles.
Many recreational and fishing tandems are designed to be paddled solo as well giving you more flexibility if you want to go out on your own.
Color Choice
This is mostly cosmetic and many models come in different colors. I favor brightly colored boats so I'm easier to spot on the water.
Best Sit-On-Top Fishing Kayak – Conclusion
There's no shortage of sit-on-top fishing kayaks with many worthy models besides the one on this list.
But you won't get a better bang for your buck than the Pescador Pilot 12 which features the perfect blend of speed and stability, with plenty of custom configurations.
If you have the money and vehicle to transport it, the Mirage Pro Angler 14 is the ultimate in pedal kayak technology and a complete game-changer.
What do you think of our list? Got any fishing tales you'd like to share? Let us know in the comments below.