Not everyone can have access to saltwater. But almost everyone is within driving distance of a river.
If you want to spend some time on these water systems, you want to make sure you're buying the best kayak for rivers.
In this article, we'll break down what to look for in the best river kayaks. You'll find subcategories highlighting the most important details for each type of kayak.
The best kayak for river fishing needs plenty of accessories and rod holders. Or if you're looking for the best kayak for river camping, dry storage space may be the most important feature. But the best kayak for river touring needs to be swift with superb tracking.
Which river kayak is right for you?
Best River Kayaks in 2023

The wide and comfortable seat makes the Pescador Sit-On-Top a comfortable ride regardless of how tall you are. The seat can be personalized and is ergonomically padded, making it one of the more comfortable kayaks out there.
There's a roomy watertight stern hatch (a rarity among sit-on-top models) as well as plenty of open-air storage thanks to strategically placed deck bungees.
Specific engineering decisions make it one of the most stable kayaks thanks to its built-in buoyancy. A great choice for beginners and experienced paddlers alike.
Very comfortable
Excellent durability
Two rod holders built into the hull
Read our honest Perception Pescador Pro 12 review.

Capable of short overnight trips, the Pungo 120 is a versatile and well-made craft. It boasts impressive top speed and top-notch tracking thanks to the sleek and narrow design that gets you where you want to go as quickly as possible.
It's also stocked with extra features. A dashboard has been installed along with a custom-fit seating system that will keep most people comfortable. But the narrow design may feel a little cramped for those with longer legs.
Top deck storage is abundant with deck bungees installed on both sides of the cockpit while the stern hatch is large enough to fit your camping gear.
Good tracking in rough or windy conditions
Small cockpit opening
Great craft for fishing, touring, or recreation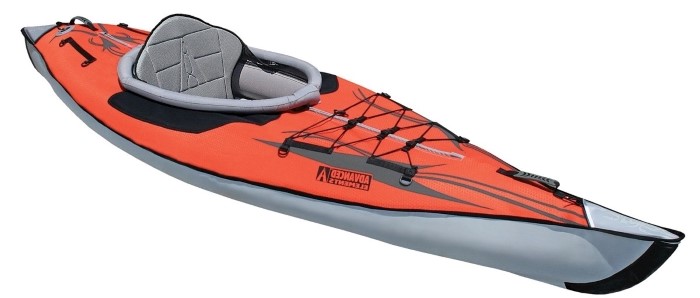 An inflatable kayak is never going to give you the performance or durability of a hard-sided kayak. But the Advanced Frame kayak provides competent toughness thanks to the puncture-resistant vinyl and two air chambers.
Storage space is often hard to come by for inflatables, but the Advanced Frame has a large bungee net stretched across the bow which should fit all your day trip needs.
Add in that the Advanced Frame is a fraction of the price of most hard-sided river kayaks and you have a reliable and stable introductory vessel.
Easy set-up and takedown
Can be stored virtually everywhere
Pooled water can start to smell if not put away properly
Read our full Advanced Elements Advanced Frame review.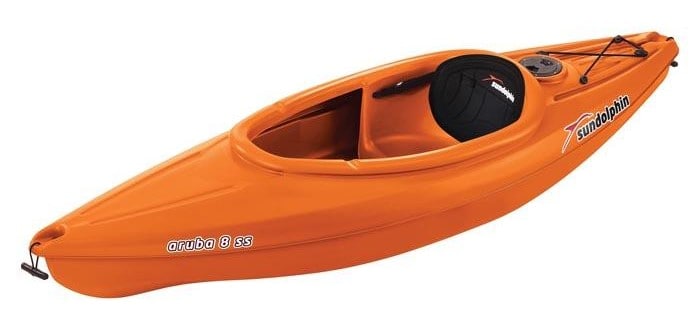 Sun Dolphin has built a reputation for creating stable, user-friendly kayaks. The Aruba Sit-In kayak is no different. Perfectly tailored to newcomers, this boat offers one of the most stable rides thanks to its hull design.
A large watertight stern storage hatch is great value in this price range as are the two flush-mounted rod holders that make it possible to fish.
Storage space and fishing rod holders are great value
Covered central console
Spray skirt compatible
Read our full Aruba 8 SS review.
Best Sit-in River Kayak: Old Town Dirigio 106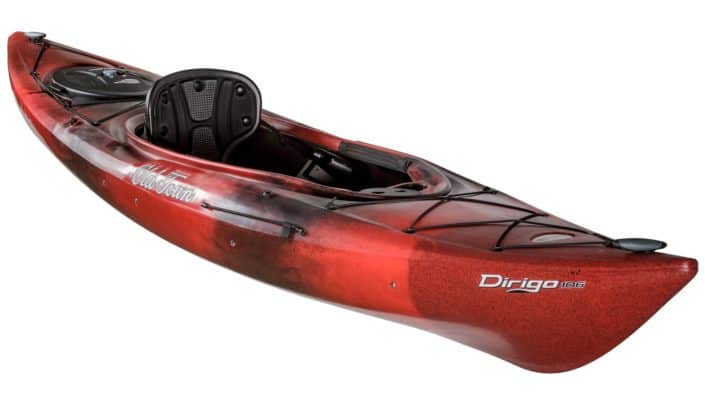 A sleek, good-looking kayak, the Dirigio 106 paddles as good as it looks.
It's a stable and responsive boat that's easy to paddle although some more inexperienced paddlers may struggle with the tracking in windy scenarios.
There are two dry storage hatches. One in the stern and a smaller one in the bow along with a drink holder and the cockpit is wide enough to fit most paddlers comfortably. A well-placed bungee holder keeps your paddle secure when it's not in use.
Only 46 pounds
Fantastic aesthetics, looks gorgeous on the water
Can be outfitted with a rod holder for fishing
Best Budget river Kayak: Aquaglide Yakima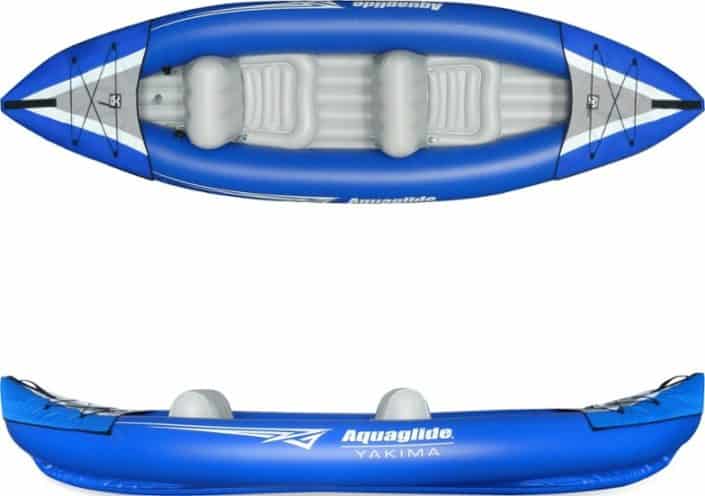 If you're looking for the best bargain, chances are you'll be in the market for an inflatable kayak. But that doesn't mean you have to sacrifice quality. Aquaglide's Yakima is a well-made and durable inflatable that is one of the most stable inflatable river kayaks out there.
A good choice for beginners or younger paddlers, it comes with a patch kit for any accidental bumps or punctures. But the Boston valves are surprisingly tough with proper maintenance.
Cheap and stable
Should be used on mellow rivers only
One of the longer inflatable kayaks (11 feet)
Large 400-pound load capacity
Best Lightweight river Kayak: Dagger Zydeco 9.0

With a stubby profile, the Dagger Zydeco is a lot of fun to paddle. Highly maneuverable it can handle and steer around obstacles that would stymie other kayaks. For rough water it's easy to install a spray skirt to keep waves out of the cockpit.
Just nine feet long, the Zydeco weighs just 36 pounds when empty, making it easy to transport solo.
But you can't have everything. The compact design means there's virtually no storage space and some longer-legged paddlers may find it hard to squeeze into the cockpit.
On calmer water, it can struggle to track in wind and waves and you'll be disappointed with its top speed.
At its best on choppy rivers
Portable and easy to transport
Low top speed and no storage space limit it day excursions
Best River Fishing Kayak: Vibe Sea Ghost 130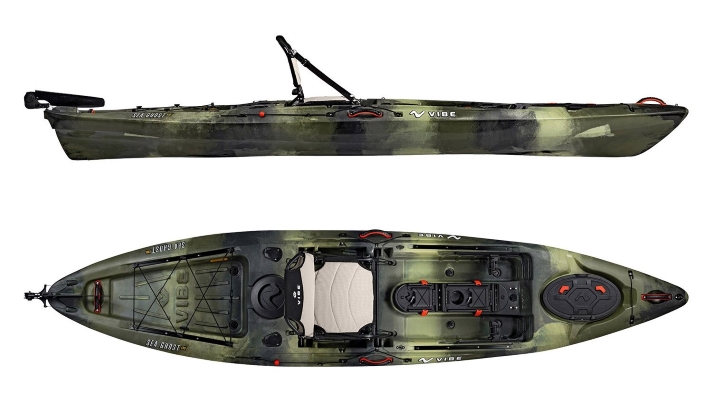 Vibe produces just one type of kayak, but they do it very well. One of their best angling models is the Sea Ghost 130.
With a 500-pound load capacity the Sea Ghost is capable of both day or multi-day trips. The "hero seat" design is so comfortable you may consider replacing your recliner with it.
The boat is stocked with custom features all geared toward catching fish. Multiple "gear tracks" can accommodate most fishing gear. But the eye-catching addition is the watertight central console complete with a mount on top where a GPS or fish finder can be installed.
Host of customization options to tailor your boat to your specific needs
Very stable but manages to maintain acceptable speed and tracking
A little bulk and heavy makes transportation challenging
Read our full Vibe Sea Ghost 130 review.
Best Tandem Kayak for Rivers: Vibe Skipjack 120T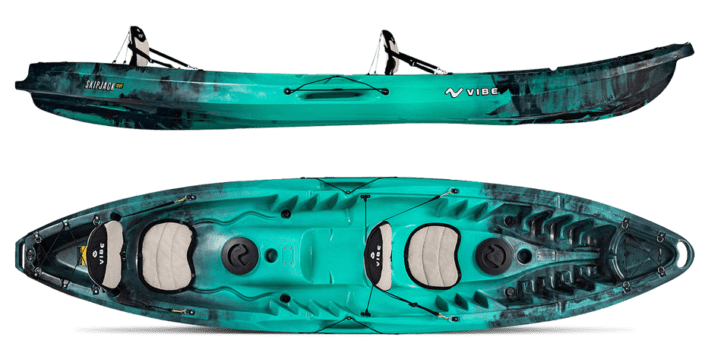 Originally designed for tandem fishing, the Skipjack is an impressive enough design to warrant consideration for non-fishing related adventures too.
With the same 500-pound load capacity of the Sea Ghost 130, the Skipjack can carry two paddlers comfortable with room for a small child or dog.
You'll find the same comfortable seats that Vibe is known for, and if you want to use it for its original purpose, you'll find four fishing rod holders and two mounts for fish finders.
Like most tandems it's stable but remains nimble and sleek enough to maintain tracking and speed in calm to moderate conditions.
Built paddle holders and accessory mounts for fishing
Comes with two paddles
Heavy for its size
Lack of watertight storage limits it to day trips
Best river Kayak for touring & camping: Perception Rhythm 11.0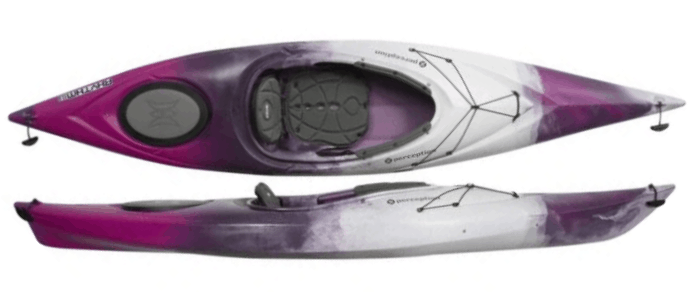 At home on lakes and rivers, the Perception Rhythm kayak is stable enough for beginners with enough storage to satisfy more experienced paddlers.
The well-padded seat keeps you comfortable all day while the generous stern hatch is big enough to fit your camping gear. The hatch isn't always watertight though, so bring a spare dry bag for an extra layer of protection.
With a load capacity of 275 pounds, the Rhythm should have enough storage space to accommodate long weekend trips as long as you pack efficiently.
Sleek and efficient design
Open bulkhead adds buoyancy and stability
Longer keel (11-feet) for improved tracking and stability
How to Choose the Best River Kayak for you
Know the Class of the River
River conditions are broken down into six classifications. The first two classifications are considered "easy" and can be handled by most kayaks and canoes.
Conditions are generally moderate, defined by few or no waves, wide channels, and easy maneuvering. It's important to note that conditions can change due to rain, snowmelt, and other variables.
The boats listed in the review above are meant for more placid rivers as opposed to whitewater conditions.
If you're interested in paddling on more dynamic and challenging rivers that are class II rapids or higher, you'll need a more specialized whitewater kayak and a more complete collection of safety gear.
Consider What You Plan to Do Most
The most important decision you have to make when buying a river kayak is figuring out what sort of paddling you want to do.
Do you see yourself doing a lot of fishing? How about overnight trips? Are you just looking for something to use on the occasional weekend outing?
While you can find boats that can fill all these niches, more versatile boats are more expensive.
Inflatable vs. Hard-Sided River Kayaks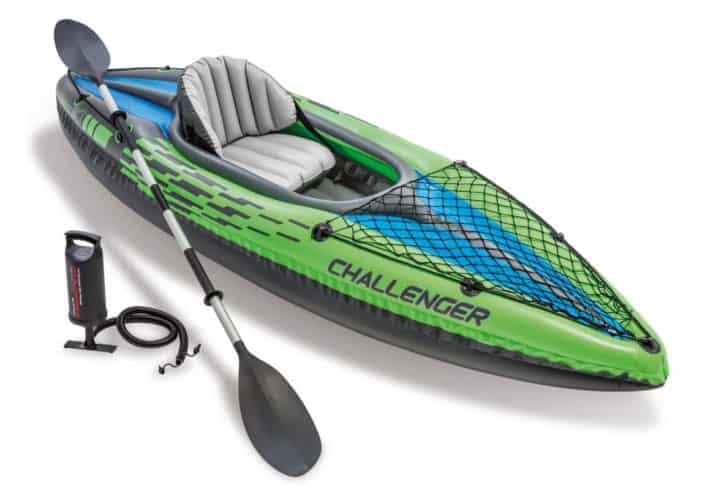 The boat's material will have a big impact on what sort of trips you're able to have. Inflatable boats are much easier to store and transport and are cheaper.
But you won't get the same performance as a hard-sided which is more stable and durable while providing more storage space.
Sit-In vs. Sit-On-Top River Kayaks
These are the two main design types.
Sit-In boats have a "cockpit" that you sit in with your lower body covered by the deck. The lower center of gravity increases stability which allows sit-in hulls to be more streamlined. With a spray skirt you can protect your torso and legs from splashing waves and rain.
Sit-On-Tops keep you a little higher above the water. But with no splash protection you're at the mercy of the waves and rain. This makes them better choices for recreational outings in warmer climates where speed and protection from the elements aren't as important. 
Tandem vs. Single River Kayak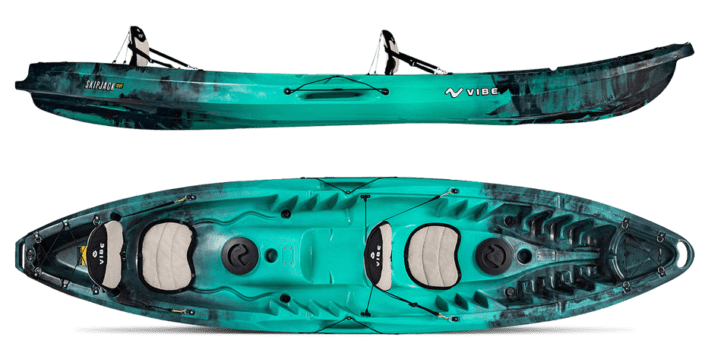 While there are some simple inflatable kayaks that can be paddled solo or tandem, the majority of kayaks aren't that flexible. Tandems are too long and heavy to be safely paddled by a solo kayaker.
Some bigger singles do have space for a child or medium-sized dog to ride along, just be sure to check the boat's load capacity first.
You can find some cheap inflatable kayaks that can be safely paddled solo or tandem if you want the versatility. But their stability and performance may not be reliable enough for anything but the calmest of riverways.
River Kayaks – FAQ
What is the best river kayak?
The best river kayak is the Perception Pescador Pro 12 because of its great mix of stability, speed, and maneuverability. This is a fishing kayak, but it's also suitable for recreational purpose as it's very comfortable and easy to paddle.
What size kayak is best for rivers?
A 10-12 ft kayak is best for rivers, because you want to be able to track while still maintaining good stability. For example, a 14 ft touring kayak or a 17 ft sea kayak will go very fast but won't be maneuverable enough for rivers. On the other hand, very short whitewater kayaks won't be fast enough and it will be very difficult to track, especially for beginners.
What type of kayak is best for rivers?
Sturdy kayaks that are between 10 and 12 ft long are best for rivers. This gives you an ideal balance between speed and stability. If paddling on a rocky river, prefer plastic kayaks instead of fiberglass boats to avoid damaging the hull.
Best River Kayak – Conclusion
Kayaks suitable for calm rivers cover a wide spectrum of quality, versatility, and price. From cheaper inflatables the best hard-sided kayaks on the market you can find the proper boat for you and your lifestyle.
My favorite is the sit-in kayak from Old Town, the Dirigio 106. I love this boat's versatility. The two watertight storage hatches provide a lot of versatility and allow me to take it on overnight trips.
It's responsive and stable and you can add a fishing rod holder with a little technical know-how. The tracking may be frustrating in the wind if you're new to the sport, but once you master it the Dirigio 106 is a gorgeous boat and a joy to paddle.
A close second is the Vibe Skipjack. As a tandem you always need a paddle partner, but it's another boat with great versatility. It's a tremendous fishing platform to go along with the stability and speed. My only quibble is the lack of dry storage space.
Do you have a favorite you want to share? Any good stories from your time on the river? We'd love to hear your tips and experiences in the comments below.