Looking for a cheap but stable and reliable way to get on the water?
Few vessels offer easier access at a low price than a recreational kayak. Whether you're in the market for a sit-in or sit-on-top model or what water conditions you plan on exploring, there's a kayak that will fit your needs.
But what's the best recreational kayak? In this article, we'll break down our favorite models in a variety of categories.
So if you're looking for the best budget option, a good kayak for beginners, or the best tandem, you'll find what you're looking for below.
Best Recreational Kayaks

Getting into a kayak for the first time can be a little intimidating. When you're looking to buy your first boat, supreme stability, and a comfortable seat will greatly improve your first few paddling experiences.
The Aruba 10 from Sun Dolphin does both of these.
The ten-foot-long boat has a wide and reassuring beam so you can feel solid in the water.
Since it's a sit-in, it's more streamlined than many sit-on-top recreational models so you can coax a bit more speed out of it.
This along with the comfortable seat and a couple of dry storage areas, one of which is accessible from the cockpit, make it a boat that you will soon be paddling with confidence.
Only 40 pounds for easy carrying
Tracking and performance can suffer in rough water
Great maneuverability
Read our full Sun Dolphin Aruba 10 review.
Best Recreational Kayak for the Money: Dagger Zydeco 9

A little shorter than the Aruba at nine-feet, the Zydeco 9 from Dagger handles like a sports car.
Capable of tight turns and very responsive, it's at home on both calm lakes and some more challenging rivers where that maneuverability can be a huge asset.
Another sit-in design, the cockpit has a spacious cockpit for its size making it easy for paddlers to get in and out.
The shorter keel does hamper the top speed and the sub-par load capacity of 220 pounds limits it to day trips. But you can't beat the price tag of this fun, sporty little boat.
Top-notch maneuverability
Lower load capacity
Comfortable and adjustable seat
Best Lightweight Recreational Kayak: Eddyline Sky 10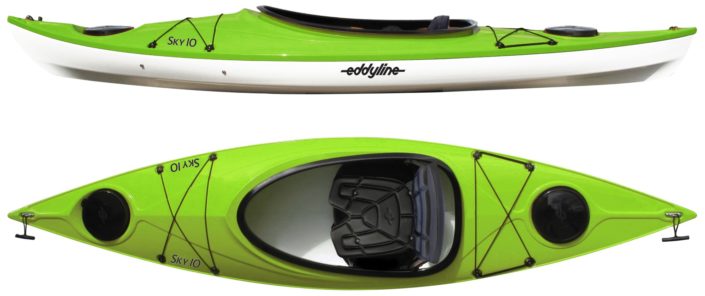 Featuring a big cockpit and dry storage space, the Sky 10 packs a lot into its lightweight design.
You don't have to sacrifice durability with its light, 32-pound frame though as the tough ASB laminate plastic can handle just about anything you throw at it (or run into).
At ten-feet long, you can get a bit more speed out of it than some boats on this list, and I love the streamlined design.
Dual dry storage compartments
One of the easiest boats to transport
Tracking lags in wind or inclement waves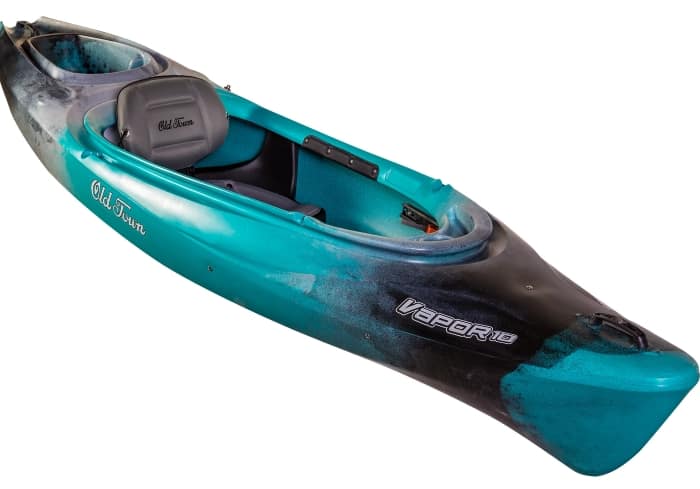 Many sit-in kayaks have cramped cockpits that make getting in and out hard.
As a tall paddler, there are some boats that I simply can't fit in. I'm happy to say the Vapor 10 from Old Town is not one of them.
In the Vapor 10, you have a boat with an easy access cockpit that can accommodate paddlers of all sizes despite being just ten feet long.
How much room is there? This is one of the few kayaks in the class where a medium-sized dog can fit comfortably.
You will need a large spray skirt to keep waves and water out, and even then it's more susceptible than sit-in boats with smaller cockpits.
This makes it best on calmer water like lakes and protected bays.
Large stern hatch is accessible from the cockpit
Paddle included
Can fit in the back of some SUVs
Good combination of maneuverability and tracking
Read our full Old Town Vapor 10 review.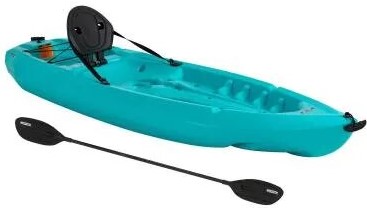 We've talked about a lot of sit-inside models thus far, so it's worth highlighting a sit-on-top kayak that is equally impressive−the Lifetime Daylite.
It's a stable kayak with several different footrest positions and a comfortable, adjustable seat.
Self-bailing drain holes keep water from pooling in choppy conditions and the boat is responsive and maneuverable.
Paddle included
Sub-par top speed
Large open-air stern hatch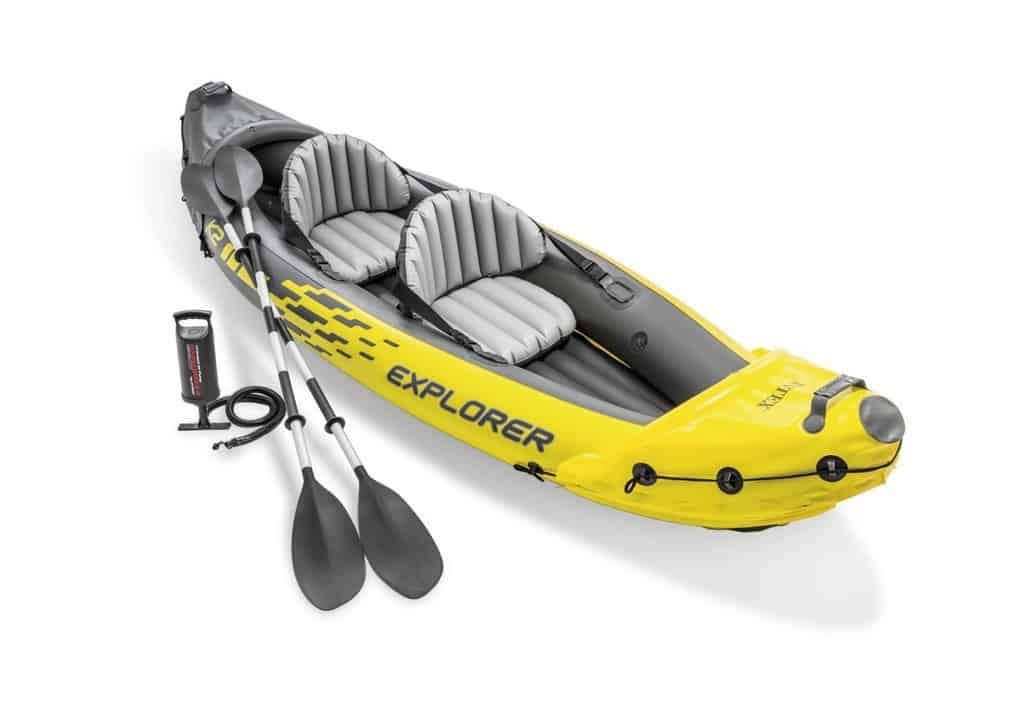 Just because you're bargain hunting doesn't mean you should sacrifice quality. While this inflatable won't handle a collision as well as a boat made of solid plastic, the redundancy of multiple air tubes keeps it afloat even if you do puncture one and the nylon material is surprisingly tough.
Able to be paddled by one or two people, the Intex Explorer K2 provides flexibility and easy transport and storage options with its svelte 31-pound weight and the ability to keep it in a closet when not in use.
The backrests are adjustable and really comfortable while the boat handles well and is easy to maneuver, making it another good entry-level boat.
It does struggle in wind and waves and as such should be limited to calm lakes and easy-going rivers.
Comes with two paddles, a pump, and a carry bag
Great stability
Can hold 400 pounds
Read our full Intex Explorer K2 review.

You won't find many recreational kayaks that can handle as much as the Pungo 120.
Wilderness Systems builds a range of boats from recreational to touring boats able to handle open ocean, and they've managed to pack a lot into this model.
With a blend of speed, stability, and a comfortable seat, you can take the Pungo 120 on lakes, rivers, and protected ocean environments.
With a load capacity and storage space to allow for quick overnight trips, it's a boat that can wear many hats for a cost-efficient price.
Versatile boat with the ability for quick overnight trips
Padded knee braces and adjustable foot pegs
Large watertight stern hatch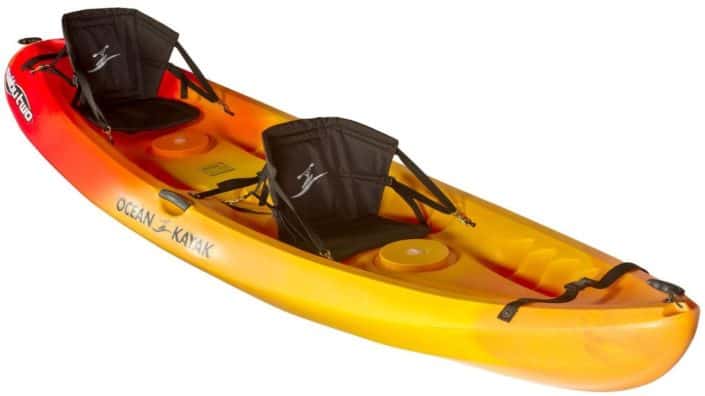 A big beefy boat with tons of room, there aren't many recreational kayaks like this one that can blow through ocean waves with impunity.
With room for two adults and a child, it's a great boat for families and the fantastic stability will give parents peace of mind.
The high backed seats are really comfortable with three different positions so you can find the perfect paddling posture.
The plastic hull is plenty durable, but I'm a big fan of the installed skid plate that allows you to drag it over some terrain, a nice feature for a boat that weighs 57 pounds.
Large 425 load capacity
Self-bailing scupper holes
Not much in the way of dry storage space
How to Choose the Best Recreational Kayak for You
Comfort and Portability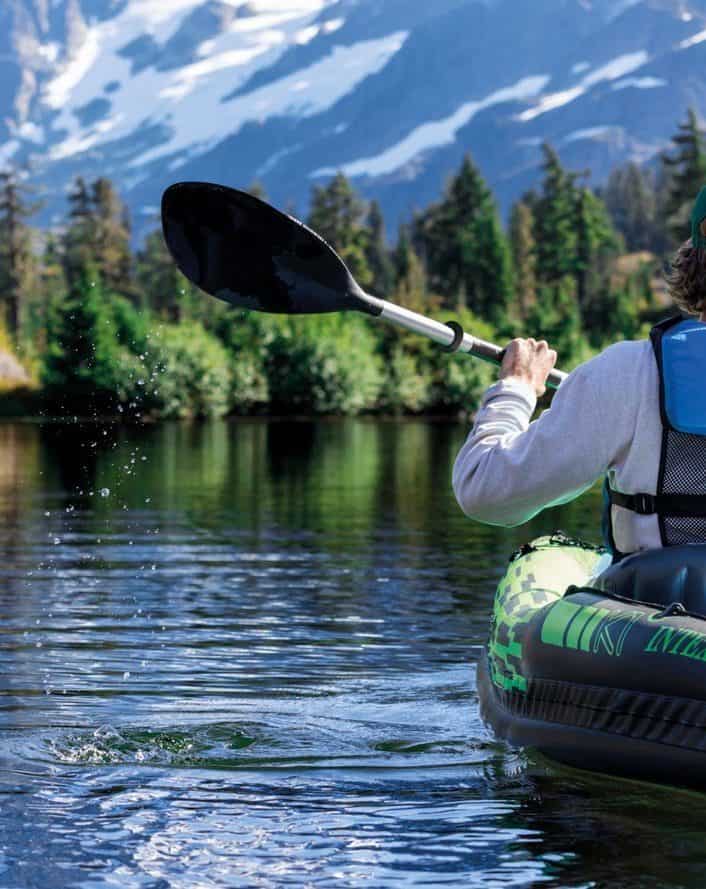 When you're just getting started, choosing a boat that's easy to move from place to place and comfortable to sit in is important.
Few things will drain the fun out of kayaking faster than lugging a heavy boat around or feeling a knot in your back.
Make sure you find a boat with strong, easy-grip handles, for easy carrying, preferably ones that aren't just solid plastic. These can dig into your fingers and get uncomfortable after a couple of minutes.
Seats should be padded and adjustable. If possible, sit in your kayak before purchasing to make sure that you fit well.
If it's a sit-in model, check your leg room. You should be able to brace against the sides of the boat without feeling cramped.
Foot pegs or foot wells are great additions that allow you to brace with your feet and will take some of the stress off of your back when you're paddling.
Sit-In Vs. Sit-On-Top
The two main kayak designs, there are pros and cons to both of these.
Sit-in kayaks have a defined cockpit that protects your legs and lower torso from the elements.
This can be further closed off by wearing a spray skirt that secures to the perimeter of the cockpit and prevents waves and rain from flooding it.
This makes them great for cold weather paddlers, although it does limit your leg room and you have less space to move and adjust.
Sit-in models tend to place the paddler lower to the water giving you a better center of gravity and more stability.
This allows them to be more streamlined without the threat of capsizing, meaning they're swifter and better at covering long distances.
While there are many recreational sit-in kayaks, they're also the preferred model for touring and whitewater paddlers.
Sit-on-top kayaks make up the bulk of recreational and angling kayak models.
They offer the luxury of plenty of leg space and room to move around without fear of getting cramped.
To keep the waves off you, the seats are placed higher above the waterline and many have scupper holes to keep them from flooding.
This gives them a higher center of gravity, so in order to match a sit-in kayak's stability, they have wider beams to keep you upright.
This does make them less efficient and slower than their counterparts.
Inflatable or Hard-Sided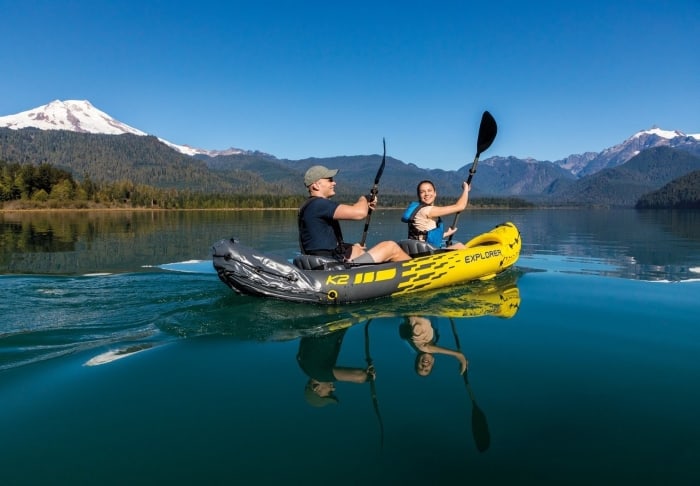 There are plenty of options in both categories in the world of recreational kayaks.
Inflatables are more durable than their reputation would suggest.
They're made of tough nylon that is hard to puncture. Most have multiple inflation tubes so even if one does get punctured you can make it back to shore.
But they don't have the same performance as a hard-sided kayak and their limited storage means they're usually just day boats.
Hard-sided kayaks tend to be higher performing thanks to their rigidity with better top speed and greater versatility.
They are more logistically challenging, however.
They must be transported in a truck bed or on top of your vehicle and while an inflatable can live in your hallway closet, a hard-sided boat will need dedicated space in a garage or other covered shelter.
Tandem or Single
There are a few tandem kayaks that can be paddled by either solo or tandem, but in most cases, tandems are too big for a solo paddler.
Tandems can move faster than singles thanks to their longer keel and tend to be more stable.
Two singles give you more flexibility to paddle on your own if you want, and if you're planning on doing longer trips, two singles hold more than most tandems.
Extra Features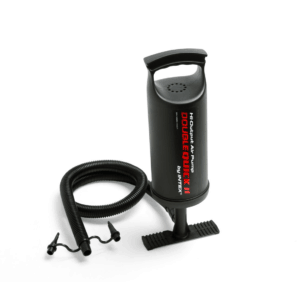 Recreational kayaks and other entry-level boats often come with some bonus accessories to sweeten the deal.
Some companies will include paddles with their boat, especially if the boat is marketed as a beginner boat.
If you're buying an inflatable, see if the boat comes with a pump and carrying case. Since inflatables usually have multiple air tubes, these may require multiple air nozzles to inflate them.
If you're going the hard-sided, sit-on-top kayak route, see if the boat comes with scupper holes that keep the boat from swamping and if the scupper plugs are included for rough water paddling.
Conclusion
The recreational kayak field is filled with different makes and models depending on your climate and ambitions.
The Pungo 120 from Wilderness Systems is my favorite. I value versatility in my recreational kayaks and this boat definitely has that with speed, stability, and storage space. It's big enough to give you a taste of kayaking without breaking the bank.
The Ocean Kayak Tandem from Malibu is another worthwhile choice, especially if you plan on paddling on the ocean or have a family.
What do you think of our list? Do you agree? What boats would you add? Let us know in the comments below.