While fishing on lakes and rivers is all well and good, everyone knows the bigger the water the bigger the fish.
But as you move into saltwater paddling, you'll need the best ocean fishing kayak.
We've done the legwork for you and in this article, we'll break down our favorite ocean-going boats in a number of categories.
Whether you're just getting started or looking for the absolute best sea fishing kayak, you'll find what you're looking for below.
Best Ocean Fishing Kayaks

The cream of the ocean fishing kayak crop are the pedal kayaks. And the Sportsman Salty PDL 120 stands atop.
The Salty PDL 120 has the same extreme stability as the regular Sportsman PDL 120.
In fact, you could even stand on the nose of the kayak without flipping. (For real, I tried this… in a swimming pool, obviously. Safety first).
However, this model was made specifically for ocean fishing, meaning it's faster, more maneuverable, and will handle the waves better thanks to the rockered shape hull.
The pedal system on this ocean fishing kayak is also one of the best out there, rivaling Hobie's for a fraction of the price.
Finally, you get lots of fishing features like a super comfy seat, four rod holders, two 18-inch gear tracks, a universal transducer mount, and plenty of storage space.
The only downside is that the Salty PDL 120 is often unavailable, mainly because it provides such great value compared to Hobie's and other brands that charge $1000 more for similar boats.
One of the lightest pedal kayaks at 79lb
Good 450 weight capacity for big guys
Padded and adjustable seat
Want to know more? Read our detailed Sportsman Salty PDL 120 Review.
Best Ocean Fishing Kayak for Beginners: Jackson Bite

If you're a budget-conscious beginner, it doesn't get much cheaper than the Jackson Bite.
For the price, you get one of the best fishing kayaks when it comes to stability and comfort.
Even with 15-20 mph winds, I feel pretty comfortable standing up on this fishing kayak. The only downside to this stability is that the Jackson Bite is a bit slow. I get an average 2.5 mph speed, or up to 4 mph if I paddle like crazy.
You get a comfortable chair that can double as a camping chair, adjustable footpegs, and even a stand-assist strap.
When it comes to storage space, you have a huge rear tankwell storage that can fit a black pack plus a big cooler. It's almost as big as a pickup truck bed.
For fishing, you have 4+2 rod holders, 4 tackle box placements, and gear tracks on each side.
As a nice bonus, the Jackson Bite also has a replaceable skid plate. This will allow you to drag it on sandy and rocky beaches without damaging the hull.
Lots of fishing features
400-pound load capacity
Comfortable, padded, adjustable seat
Want to know more? Read our detailed Jackson Bite Angler Review.

I wouldn't trust many inflatables on the open ocean, but the folks at Sea Eagle really know what they're doing.
Two plastic skegs prevent the wind from pushing the Sea Eagle FastTrack around, a common ailment for inflatable boats which also allows it to handle up to Class III rapids.
Able to be handled by one or two paddlers, it performs best with two people on board providing more power and speed if the weather picks up.
Set-up and takedown is a piece of cake with inflating requiring just eight minutes.
You won't find much storage space, an issue for all inflatables, but it does have a storage box and two rod holders.
For the price, the FastTrack provides the best value for recreational anglers or if you need to hike to remote beaches.
Limited storage space
Big 635lb weight capacity
Room for up to three people
Best Cheap Tandem Sea Fishing Kayak: BKC TK181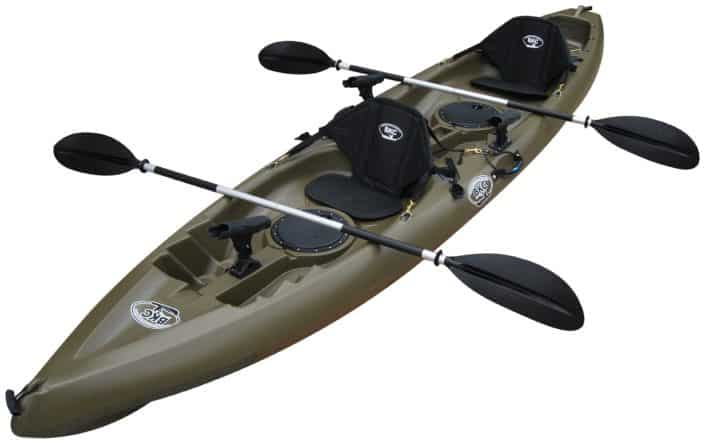 A great tandem kayak that's perfect if both paddlers are interested in fishing.
The TK181 comes equipped with 7 (!) rod holders so both anglers can fish to their heart's content.
It's a big boat with a 34-inch beam that uses its large deck to ensure that you have a ton of storage space including two watertight consoles in front of each seat.
The beam also gives it impressive tracking and stability, especially when two experienced paddlers are at the helm.
At 68 pounds it's a little heavier than I'd like, but thanks to the easy carrying handles, most pairs should be able to move it without too much trouble.
Add in the 450-pound load capacity and the two included aluminum paddles and you've got a boat that provides a lot of bang for your buck.
Can handle choppy waters well
Seat attachments can be fragile
5-year warranty
Best Sit-On-Top Ocean Fishing Kayak: Vibe Sea Ghost 130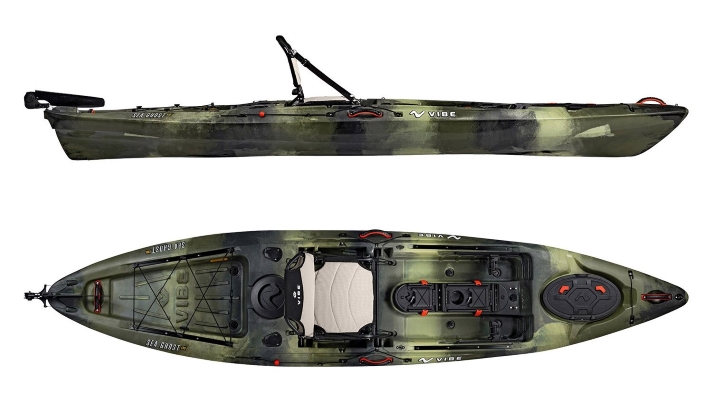 With a singular focus on fishing, Vibe has been perfecting their designs since arriving on the scene in 2014.
Sea Ghost 130 is the product of their efforts with a great combination of stability and speed that allows it to cover ground and stand up to choppy waves.
The large load capacity provides you with enough storage for multi-day trips.
But it's the customization where the Sea Ghost 130 really stands out. Add a fishfinder, sonar, GoPro, or extra rod holders on the gear tracks to customize the boat to your exact specifications.
Add in the "hero seat", one of the most comfortable kayaks ever conceived, and you've got a standout fishing kayak.
Comes with adjusting rudder
Tons of customization options
Heavier and hard to transport
Read our full Vibe Sea Ghost 130 review.
Best Sit-In Ocean Fishing Kayak: Bonafide EX123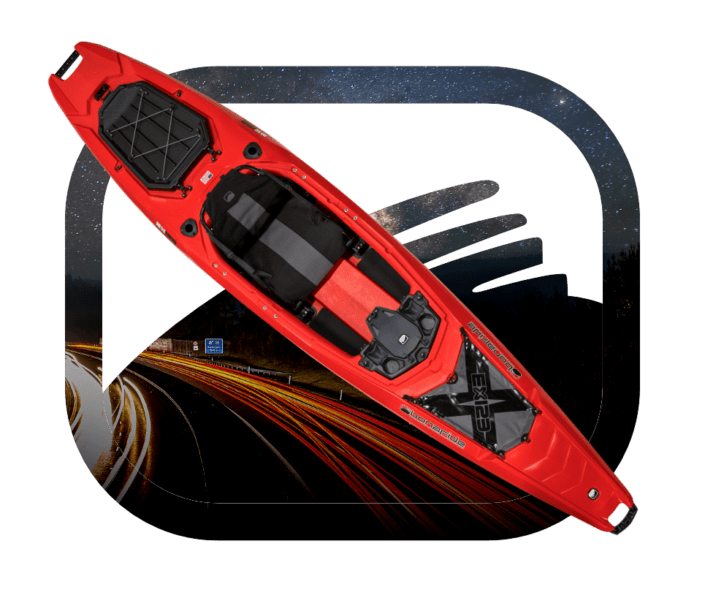 One of the newest fishing kayaks, the EX123 has a slim and hydrodynamic design which gives it an impressive top speed despite its heavier weight (52 pounds).
While many sit-in kayaks feel cramped and uncomfortable, this boat has a mammoth cockpit that will accommodate most paddlers comfortably.
In addition to the eye-catching speed, this boat tracks really well and can handle ocean currents and tides better than most.
There's not a ton of customization options but it does have two flush-mounted rod holders and the storage space is acceptable.
Long, slimmer boat for better speed
Stable enough to stand in
Really comfortable stadium-style seat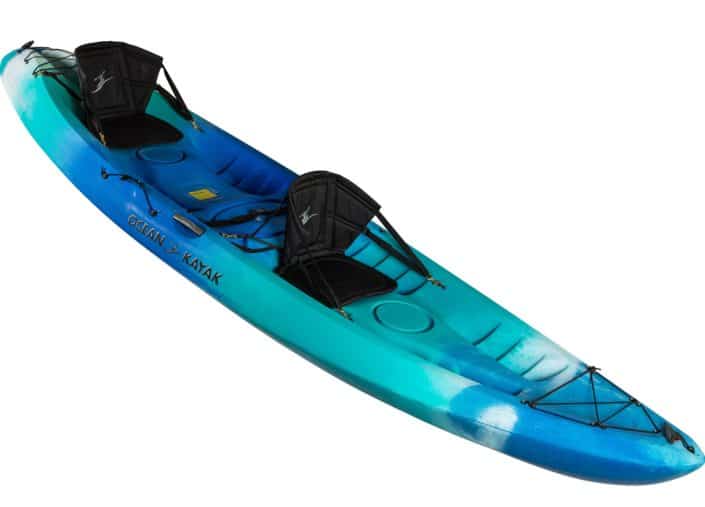 One of the most stable kayaks on the market, the Malibu Two Tandem from Ocean Kayak has a twelve-foot keel and roomy cockpits with space for a small third passenger making it a good boat for families.
The 425-pound load capacity should be enough for two people and their fishing gear and the seats and multiple foot braces make for a comfortable paddling experience.
A skid plate gives the tough plastic hull even more durability but the boat still weighs just 57 pounds with easy carrying handles.
Lifetime warranty
Incredibly stable
Can be paddled solo or tandem
Read our full review of the Malibu Two tandem kayak.
How to Choose the Best Ocean Fishing Kayak
How Experienced Are You?
Being on the ocean can be a very different paddling experience. Unlike likes and rivers, ocean paddling introduces additional variables like tide, current, and more inclement weather.
If you're an inexperienced kayaker, be cautious when starting out. Select a boat that focuses on stability while you get the hang of the sport.
Plan trips so that you'll have plenty of daylight to get home and stick close to shore.
Select outings that keep you in protected bays and near other people until you feel confident in your paddling skills.
Dimensions
This will matter a lot on what sort of trips you're envisioning. For ocean paddling, I'd recommend a kayak with a flat hull. This gives you extra stability that is especially important for fishing.
The length of your boat will give you some idea of how much storage space you'll have available. The length of the keel should also give you a rough idea of how fast the kayak is. In most cases the longer the keel and more curved the bow the faster the boat will be.
The width varies a lot between sit-in and sit-on-top kayaks. Narrower, more streamlined kayaks are easier to paddle and are more efficient.
Storage Capacity
If multi-day trips are part of your itinerary, prioritize a boat with at least one watertight storage hatch.
Make sure this space is large enough to house your camping gear. Nothing ruins a trip quicker than a wet sleeping bag.
Check the boat's load capacity on its specifications page before purchasing. This refers to the amount of weight the boat can handle.
Remember that this number includes your weight too. Overloading a boat can make it sluggish and more apt to tip over.
Trip Length
In general, the longer your trips, the longer your boat should be.
This will give you additional storage room and the longer keel will make those longer distances melt away.
A comfortable seat should always be a priority, but it's especially important if you plan on spending the whole day paddling.
Try out the seat before you bring your kayak home. Look for a boat that has a padded back and bottom and is fully adjustable.
Foot braces, either adjustable or multiple wells allow you to brace which takes some of the pressure off your back and helps with your stability and paddling efficiency.
Other Features
In recent years, fishing kayaks have started to add more and more custom features to their boats.
"Gear tracks" or "accessory sliders" let you outfit your boat however you want and install some of your favorite gadgets. You can use these tracks or a central console to install a GoPro, to hold more gear, or even implement a fish finder.
Rod and paddle holders are pretty much necessities for kayak fishing and keep those unwieldy tools out of the way when not in use.
Paddle vs Pedal Ocean Fishing Kayaks
While most kayaks can only be propelled with a paddle, a high-end category of kayaks have pedal drive systems that allow them to be moved like a bicycle.
This has many obvious advantages. A pedal system lets you use your larger leg muscles creating more power and speed. You can increase this even more by paddling while pedaling. It also leaves your hands free to cast while your boat's in motion.
But pedal kayaks are prohibitively more expensive than many paddle kayaks. And the pedal system means the boats are bigger, heavier, and harder to move.
Sit-In vs Sit-On-Top Sea Fishing Kayaks
The two main types of kayak. Sit-in kayaks have a defined cockpit with a seat on the floor of the boat.
With a spray skirt, your legs and lower torso are protected from elements making sit-in kayaks preferable for colder climates. Since you're seated closer to the water, sit-in kayaks can be more streamlined and faster without compromising stability.
Sit-on-top kayaks have no defined cockpit making them easier to get in and out of. They don't provide any protection and are best in warm environments where splashing water won't be a big deal.
The seats are placed higher above the water to keep you drier, but this means the kayak has to be wider for the sake of stability. They're the common design for recreation and kayak fishing.
Water Conditions
If you're going to be on the ocean, you should always plan for at least some choppy conditions and ocean swell.
Don't go far from shore until you feel that you have a good understanding of the waterway you're paddling and consult more experienced paddlers.
If choppy water paddling is in your future, make sure that you have a boat up to the task. Look for a boat that has a combination of stability and a streamlined bow that will allow you to cut through the waves and surf more efficiently.
Tandem vs Single Sea Fishing Kayaks
Tandem kayaks are longer and with an additional paddler can provide more speed.
Their tracking capability can be lower than a single and they don't have the storage space of two singles.
But it may be easier to transport one tandem than two singles and many tandems in the recreational and fishing categories can be paddled solo or tandem.
Color Choices
This one is mostly cosmetic and many kayak models come with several different color options. If possible I select a boat with bright colors that will stand out on the water.
This makes me more visible to passing boats, and in the event of an emergency, easier to locate by a search and rescue crew.
Before heading out, make sure someone knows the color and design of your boat so they can describe it to emergency personnel. 
Ocean Fishing Kayaks – FAQ
What Is the Best Ocean Fishing Kayak?
The best ocean fishing kayak is the Sportsman Salty PDL 120 because it has the same extreme stability as the standard Sportsman 120 but with better maneuverability and speed. It also handles the ocean swell much better thanks to the hull design.
What Is the Difference Between a Sea Kayak and an Ocean Kayak?
The difference between a sea kayak and an ocean kayak is that sea kayaks are generally longer and narrower than ocean kayaks. This allows them to have better speed and tracking. On the other hand, ocean kayaks need to be a bit wider and more stable, with a rockered hull to be able to withstand the waves.
Which Old Town Kayak is Best for Ocean Fishing?
The Old Town Sportsman Salty PDL 120 is the best Old Town kayak for ocean fishing, thanks to its rockered hull and supreme stability. The Salty PDL has been made specifically to handle the ocean swell and be maneuverable and fast on the water.
Best Ocean Fishing Kayak – Conclusion
There's a wide range of boats that you can take onto the ocean with confidence depending on your goals and price range.
The Bonafide EX123 is a new design that deserves acclaim for its slim, sit-in design that more than makes up for the lack of custom options. But there's no competing with the Salty PDL 120's pedal system that unlocks a whole new world of kayak fishing.
What do you think of our list? Who'd we miss and what are your favorite kayak models? Let us know in the comments below.