Whether you're a casual weekend paddler or a serious adventurer, lugging a heavy kayak to the shore is the most tedious part of any trip.
So why not make it easier on yourself by selecting a high-performing and lightweight kayak.
In this article, you'll find some of the best lightweight kayak designs on the market today including clever module designs, snap together, and inflatable construction methods to make your life as easy as possible.
Best Lightweight Kayaks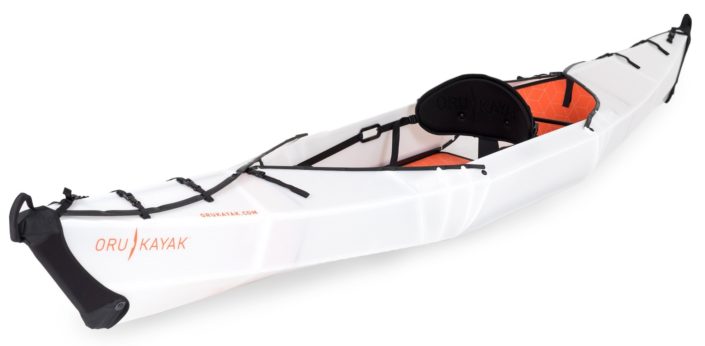 Portable and simple to set up with its intuitive folding design, the Oru Kayak Beach LT stands above the rest as the best lightweight kayak.
Oru has put the onus on stability with this model, making it a preferable choice for beginners as well as more advanced paddlers.
The cockpit is wide and spacious, with room for an adult and a smaller child at the same time.
It checks in at 26 pounds when empty while the load capacity of 300 pounds and a surprising amount of storage space means that overnight trips are possible for the prudent and efficient packer.
Can be lit up at night with LED lights
Lacks the durability of hard-sided models
On the expensive side
Easy set-up gets you on the water in ten minutes

With a clever modular design, the Solo Red from Apollo gives you a boat that combines the performance of a hard-sided kayak with the portability and convenience of an inflatable.
The boat splits into two sections, allowing it to fit in the back of most cars for easy transport and it snaps together easily. You also get the added flexibility of adding a third module to convert it into a tandem.
On the water, it's comfortable and easy to get in and out of. Stability is above average and it's a maneuverable vessel.
Speed is subpar however and there's no steering system, which hampers its tracking.
Unlimited flexibility thanks to the modular design
Modules weigh just 20 pounds each
Lacks tracking for rough water
A hybrid vessel that can be categorized as either a recreational or fishing kayak, the Emotion Glide provides the sort of stability that first-time kayakers crave.
At less than ten feet long and 29-inches wide, it's maneuverable and responsive in calm water with an easy learning curve.
But the lightweight design and short keel mean it's easily blown off course in wind and waves. It should be kept off the ocean and on calm lakes and slow-moving rivers.
For fishing, you get a couple of rod holders and plenty of extra space for a tackle box and extra lures.
Fantastic stability makes it great for beginners
Versatility for fishing and recreation
Performance issues limit it to lakes and rivers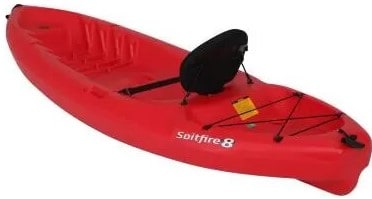 Sporting a wide cockpit and multiple footrest locations, the Lifetime Spitfire 8 is a short but comfortable paddling platform that's one of the most forgiving kayaks to get in and out of.
It doesn't have the load capacity or performance to handle anything more than day-long adventures, but there is a little storage space with bungee cords strapped to the bow and stern.
The padded backrest is adjustable and one of the more comfortable seats in the class will make it the preferred choice for older paddlers.
There's even a cup holder accessible by the seat for those quiet sunny afternoons on the lake.
Doesn't have the tracking for open water or river rapids
Comfortable seat with a wide cockpit
Great durability
Can be easily modified for fishing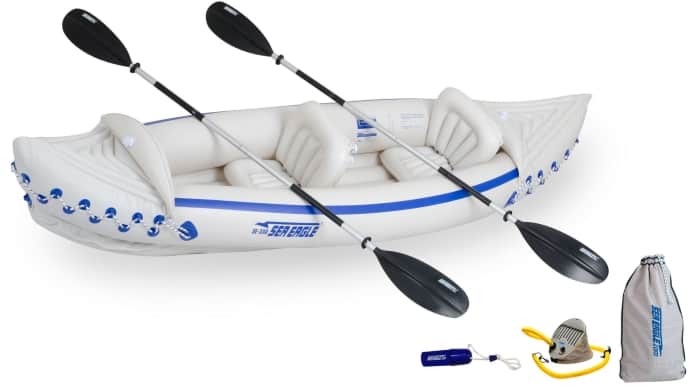 The weight to load capacity ratio of the Sea Eagle 330 borders on the incredible. Weighing just 26 pounds, the 330 is capable of carrying an incredible 550 pounds!
While listed as a tandem, the cockpit measures just nine and a half feet long which may be a little cramped for some people.
But it's the perfect amount of space for a single paddler and their dog. Don't let it being an inflatable scare you off. The fabric finish is tough enough to handle the claws of your paddling canine companion.
From a performance perspective, it has impressive stability but lacks the speed and performance to handle rough rivers or ocean conditions. Two skegs can be attached to the bottom to improve tracking.
Larger load capacity and lightweight
Not big enough for two adults
Very small when deflated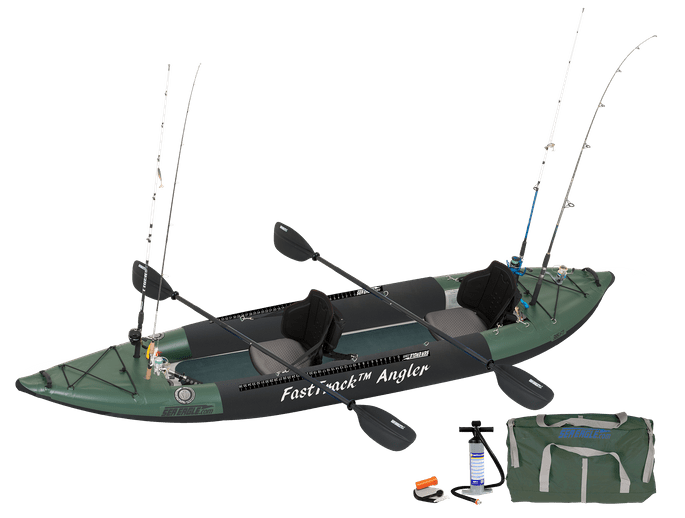 A tough and versatile design, the Sea Eagle 385 has the stability and responsiveness to handle Class III whitewater conditions, a rarity among inflatable models.
While calm and protected ocean conditions may be ok, I'd still prefer to keep this boat on lakes and the aforementioned rivers.
Non-slip padding covers the floor and sides of the tough PVC fabric increasing both durability and safety.
Once on the water, it can hold up to 635 pounds which should satisfy even the most voracious angler.
The boat comes with built-in rod, hook, and lure holders so everything stays secure and there's even a 36" fish ruler along the hull.
Able to be paddled solo or tandem
Specific locations to secure all your angling gear
Flexibility to handle some tougher rivers

Thanks to a tough as nails PVC exterior, the Intex Excursion Pro is one of the most durable inflatable kayaks on the market.
High-pressure valves make setting up and getting on the water quick and efficient with little to no learning curve.
But it's the extra features that you don't expect to find in a cheaper lightweight boat that make it stand out. A pair of fishing rod holders are built into the hull. In addition, a mounting bracket allows you to further outfit this boat for fishing by installing a GPS, fish finder, or depth sounder.
400-pound weight capacity
Comes with two paddles and a pump
Easy storage
Included features are a great bang for your buck
How to Choose the Best Lightweight Kayak
What do you Plan on Doing the Most?
The first question you need to answer is where do you see yourself doing the majority of your paddling?
Most kayaks are designed for different water conditions and taking them on the wrong waterways can be frustrating and dangerous.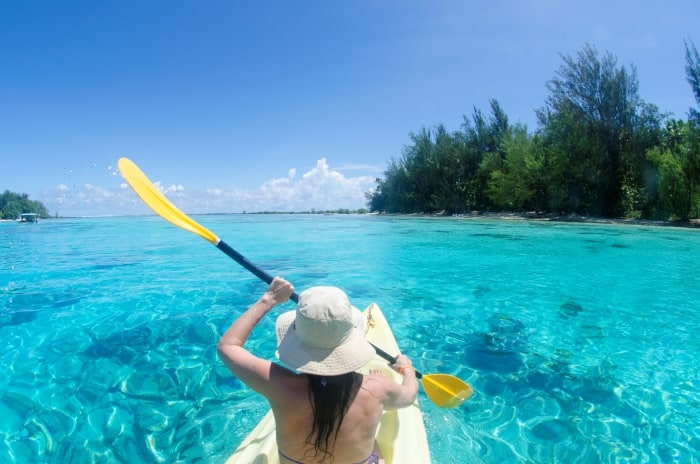 Most lightweight kayaks are at their best in calm water such as smaller lakes or slow-moving rivers. They lack the length and weight to handle rough water or any wind or tide that you may have to contend with.
Speed is usually in direct correlation with the length of a boat's keel, and since lightweight boats are usually shorter, they lack the speed to cover long distances that more ambitious trips usually require.
While the shorter length does make them more maneuverable, tracking tends to suffer in these models and they can easily be blown off course by wind, waves, or tides.
Most are best suited for casual, recreational use and they serve as a good introduction to the sport. For families, selecting a tandem kayak that can be paddled by one or two people may be a good way to teach your kids the sport.
The same goes for those that wish to take their dog with them. If this is in your plans though, make sure the boat has a durable and reinforced floor so that their claws don't scuff it up or puncture it if it's an inflatable.
For fishing, look for a boat that at least has a rod holder or two. It can be impossible to manage both a fishing pole and a paddle without one. Custom mounts are common on more specialized fishing kayaks allowing you to install your own gadgets such as a fish finder or GoPro.
Sit-In vs. Sit-On-Top
Sit-in and sit-on-top kayak models represent the majority of the designs on the market today. Several deviations in performance and accompanying features make them distinct and specialized in their given field.
Sit-in kayaks have a cockpit that is oval-shaped with the seat mounted on the "floor" of the kayak's hull. The paddler sits in this confined enclosure which protects your legs and lower torso from the elements. The hole can be completely closed off with a spray skirt.
With the seating situated closer to the water, sit-in kayaks can be slimmer in shape without losing any of their stability. This means they're faster and can track better than most of their sit-on-top competitors.
Watertight storage space is often given priority with many models featuring two dry storage hatches in the bow and stern. Altogether, this makes sit-in kayaks preferable for longer touring trips or for those that live in cold weather or temperate environments where additional protection from rain and waves is preferable.
Sit-on-top kayaks by comparison have no enclosed cockpit, making them simpler to get in and out of without tipping over. More leg room is usually provided and they're more comfortable for those that have mobility issues.
However, they provide no protection from the weather with rain choppy waves creating an uncomfortable paddle. Because of this, they're better off in warm climates where the occasional wave may feel refreshing.
To provide some protection, the seats are placed higher above the waterline. But this creates its own complication. It means sit-on-tops have to be wider to maintain stability which makes them slower and less efficient to paddle. While a few may work for multi-day trips, they're best implemented for recreational purposes or as angling kayaks.
Inflatable vs. Hard-Sided vs. Folding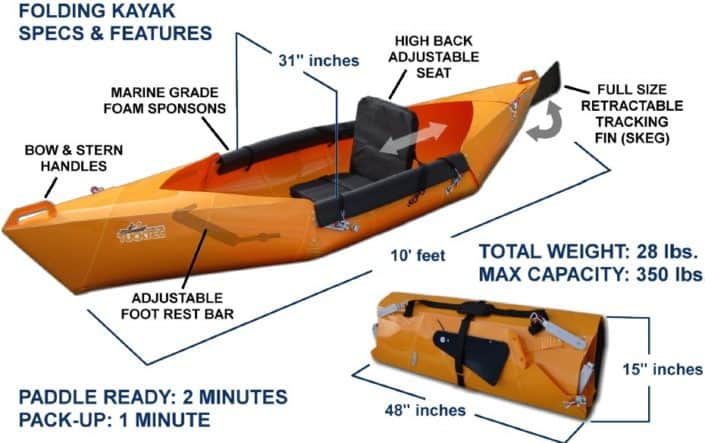 While not as fragile as their reputation suggests, inflatables are still the least durable of the three categories. This doesn't mean they're a bad investment, most are made of a tough PVC fabric that is puncture resistant and multiple air tubes provide redundancy in case of a leak.
Performance-wise they're not as impressive as a folding or hard-sided boat, and most are best suited for recreational or beginner boats on calm water.
Hard-sided kayaks are versatile and their designs cover every aspect of kayaking. Their rigid hulls usually provide a better performance and longer designs can have the tracking and speed to take on open water paddling.
They're harder to store and transport however and often come at a higher price than inflatables.
Folding kayaks combine the easy storage and transport of inflatables with on-water performance that can compete with hard-sided boats. These boats are folded and snapped together in a process that usually only takes a few minutes. This convenience doesn't come cheap and their price tag is closer to a high-end hard-sided kayak than an inflatable.
Tandem or Single
If you plan on doing most of your paddling with a partner, it may be worth investing in a tandem kayak.
Recreational tandems often provide the flexibility to be paddled solo as well as tandem without a huge decrease in performance. Check with the manufacturer before paddling a tandem on your own though.
Transportation and storage of a tandem can be easier too, and their longer keels often mean greater speed and stability. The additional weight is usually not a problem since you'll always have another person to assist you.
For longer touring, there's more storage space in two singles than a single tandem as you have twice as many hatches to store gear.
Conclusion
For convenience and ease of access, there's no beating a lightweight kayak you can throw over your shoulder.
If you have the funds, a folding kayak like the Oru Beach LT represents the best of the best when it comes to performance in lightweight kayak designs.
Clever models like the snap together Apollo Solo Red are also easy to transport without sacrificing any on-water performance.
What do you think of our list? What would you take off and what would you add? Let us know in the comments below.