Kayaking can be a great activity for the whole family. But for those with younger paddlers, it's important that you chose the best kayak for kids which can have significant differences.
The best kayaks for kids come with tons of safety features and prime stability ratings to ensure that kayakers of all ages keep their boats upright.
In this article, we highlight the best kids kayak in several categories and show you how to choose the best one for you and your family.
9 Best Kayaks For Kids
While these reviews are classified by age groups, your child's size and weight are the most important parameters.
While these categories provide a good starting point, check the boat's load capacity and ideal paddler height to make sure it will work for your family.
If you're looking for a tandem kayak to paddle in the same boat as your kid, click here:
Best Kayaks for 4 to 8-year-old Kids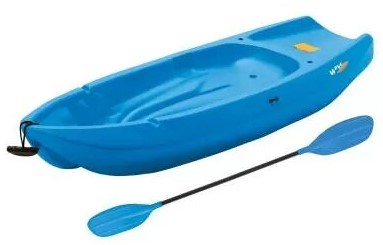 A by-product of kayaks for young kids is their short keels can make them almost impossible to paddle straight.
But the Youth Wave from Lifetime has incorporated a lateral chine to help compensate for this without compromising stability or maneuverability.
The pontoon hull makes it plenty stable so you can feel comfortable with children of all ages.
A swim step leads up to the sloped stern allowing your young paddler to safely get back in and allows them to jump on and off.
Paddle included
Several safety features including a swim step
Weighs just 18 pounds
Great tracking for a youth kayak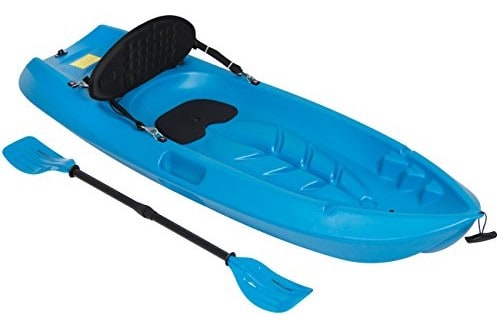 While a lot of kayaks marketed towards youth have basic hard plastic seats, this six-foot kayak from Best Choice has a seat you'd expect to find on a fishing kayak.
The straps are fully adjustable for a comfortable ride and which is great if you plan on being out more than an hour.
A similar swim step to the Lifetime Youth Wave has been built on the stern and the wide 26-inch beam provides great stability.
Paddle included
Swim step
Weighs just 18 pounds
Lacks tracking and speed of the Lifetime Youth Wave
Best Kayaks for 8 to 12-year-old Kids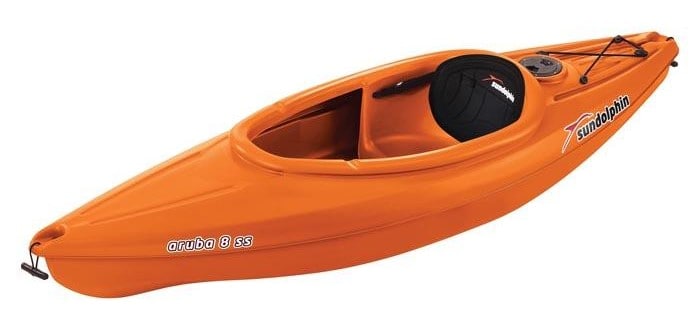 With a wide cockpit, the Aruba 8 allows paddlers of all ages to safely enter and exit while also protecting you from splashing waves and rain.
Bulkier and sturdier than kayaks marketed at younger children, the Aruba 8 can be more challenging for less experienced paddlers.
In the right hands, you can trust it to safely guide your young paddler down mild rivers.
Versatile enough to take on rivers
Dry storage compartment
Can accommodate paddlers up to 5'5" comfortably
Read our comprehensive Aruba 8 review.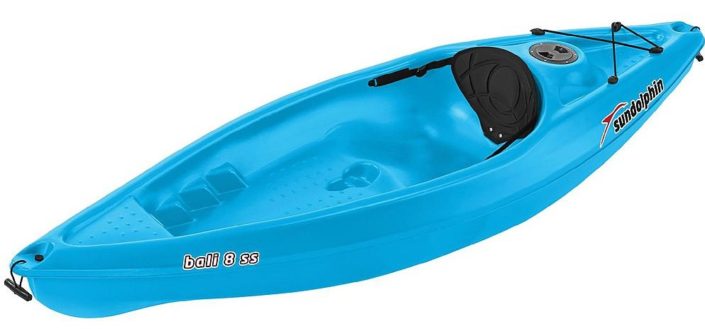 Able to hold up to 200 pounds, the Bali 8 is capable of more ambitious paddling expeditions.
The sit-on-top design sets the cockpit a little deeper than most in the category to minimize splashing waves or surf.
An adjustable seat and footwells allow children and small adults to paddle in comfort. There are both dry and open-air storage compartments and even a cup holder.
For the young aspiring angler, it's a good first fishing kayak.
Can accommodate paddlers up to 5'5" comfortably
Weighs 30 pounds
Surprisingly fast for a youth sit-on-top
Best Kayaks for 12+-Year-Old Kids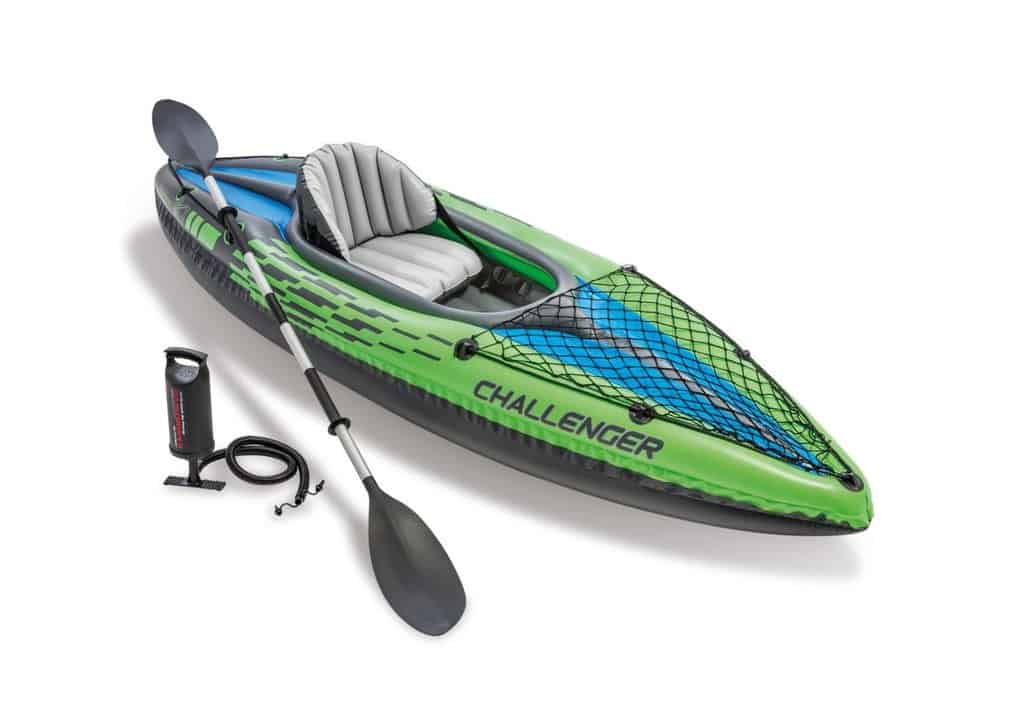 A great choice for newcomers of all ages, the Challenger K1 is cheap and durable for an inflatable.
Measuring nine-feet, it's long enough to mimic the performance of more expensive kayaks.
While not made specifically for kids, the hull's I-beam design provides plenty of stability when used on calm lakes and rivers.
Storage is limited to a bungee net stretched across the bow and the overall performance keeps it from being anything other than a recreational craft.
But for your pre-teens first boat it's a great way to gauge their interest without breaking the bank.
220-pound load capacity
Removable skeg improves tracking
Comes with pump, paddle, and patch kit
Read our full Intex Challenger K1 review.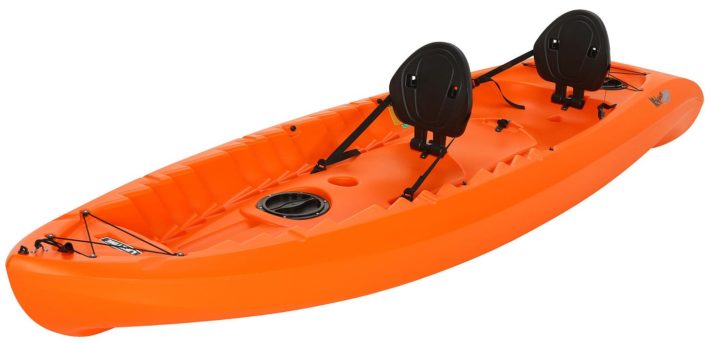 The perfect tandem if you plan on doing all your paddling on calm lakes.
From a performance perspective, I don't trust Lifetime's 10-foot tandem to handle serious weather, but on calm water it handles just fine and is easy to paddle.
A versatile kayak, it's a good platform to fish from and is even stable enough to stand and cast in.
There's also room for a smaller third person or well-behaved dog so you don't have to leave anyone behind.
A versatile kayak at home on mellow lakes
500-pound load capacity
Two paddles included

One of the cheaper sit-in models, the Aruba 10 is large enough to accommodate larger children and adults alike.
If you live in a cold-weather climate and want a step above a basic inflatable, the Aruba 10 is a good introductory kayak.
The tracking and speed are subpar, especially if the weather picks up, so it's important to limit it to calm water. The maneuverability makes it easy to handle and makes it a fun boat to paddle.
A price-efficient model that gets you on the water cheap
The lightweight and small size makes it one of the easiest hard-sided kayaks to transport
The footpegs can accommodate paddlers of various heights
The seat could be more comfortable
Struggles to track in windy conditions and gets blown off course when you stop paddling
Read our full Sun Dolphin Aruba 10 review.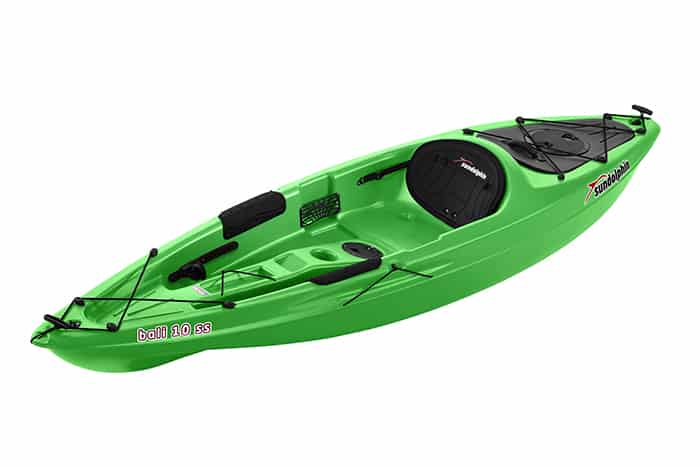 On the water, the Bali 10 performs similarly to the Aruba 10. The hull design does provide better tracking in wind and smaller waves while not compromising the boat's stability.
That said, some larger paddlers have questions about stability, but it doesn't seem to be an issue with lighter paddlers.
You also get a watertight hatch and in many cases a paddle is included.
Adjustable footpegs and the open cockpit design makes it easier to enter, exit, and adjust where your legs are braced.
Improved tracking without sacrificing stability
Watertight stern hatch
Some questions about the stability for larger paddlers
Learn more about Sun Dolphin kayaks.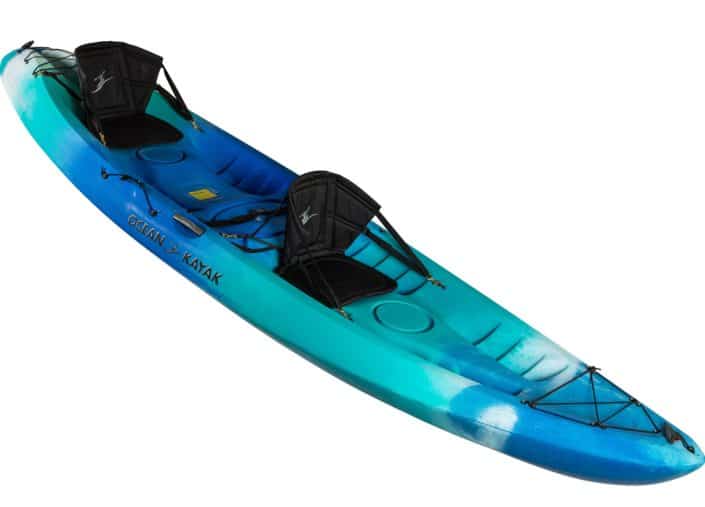 When you're paddling with your children, what's more important than stability?
One of the most stable kayaks out there, the sit-on-top Malibu tandem provides peace of mind when you hit the water.
Despite the wider hull, it maintains a decent enough speed for day trips and the cockpits comfortably fit paddlers of all sizes.
It's still light enough that some parent/kid tandems will be able to move it from the car to the water on their own.
Can handle light surf
Just nine-feet long and 44 pounds
Fantastic stability
Read our comprehensive Ocean Kayak Malibu Two review.
How to Choose the Best Kayak for Kids
Kids Kayak Dimensions
Until your kids are near adult height and weight, a full-size kayak may be difficult to handle on their own.
The width and depth of some cockpits make it hard for shorter arms and torsos to reach the water and paddle effectively.
Choosing a boat that is a little narrower without compromising stability will counteract this.
The same goes for the length of the kayak. Choose a boat that's shorter (9-feet or less).
Shorter kayaks move easier with less force required to maintain cruising speed. Shorter keels are also more maneuverable.
The drawback to a shorter boat is tracking can be subpar which can be frustrating in wind, waves, or surf.
Check the boat's load capacity, an indicator of how much weight the boat can carry.
Loading a kayak past its load capacity can make them sit lower in the water where they are less responsive and more liable to tip over.
Sit-In vs. Sit-On-Top Kids Kayak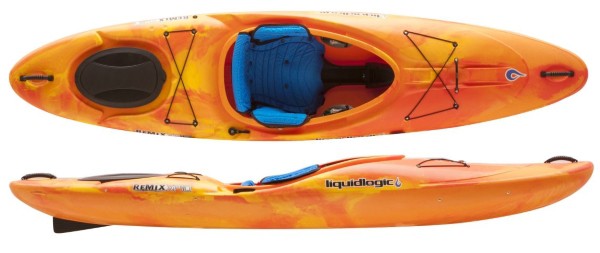 There are several key differences between the two primary kayak designs.
Sit-in kayaks protect your legs and lower torso from rain and splashing water, especially if you're wearing a spray skirt that wraps around the outer combing of the cockpit.
Because you're sitting inside the boat, your center of gravity remains close to the water which makes sit-in kayaks more stable.
This allows them to be more streamlined and efficient without compromising the boat's stability.
They're popular choices if you're focused on performance or live in a cold, wet environment.
Sit-On-Top kayaks are more susceptible to splashing waves and as such keep you higher above the water.
This can make them less stable so they're generally wider which can make them slower and less responsive.
They tend to be recreational kayaks although some higher-end models are designed for fishing.
Inflatable or Hard-Sided Youth Kayak
In most cases, inflatable kayaks are cheaper and used for recreational trips on calm water.
They're more durable than you may think thanks to a tough nylon exterior as long as you avoid serious collisions.
The simpler design and material make inflatables cheaper but they don't perform as well. Many are blown off course in windy conditions and the bulkier design can slow them down.
Hard-sided boats are more diverse with specific designs for every type of paddling.
Performance is often much better, particularly with sit-in kayaks that are more streamlined. You'll find a lot more storage space and in many cases watertight hatches.
Tandem or Single Kid Kayak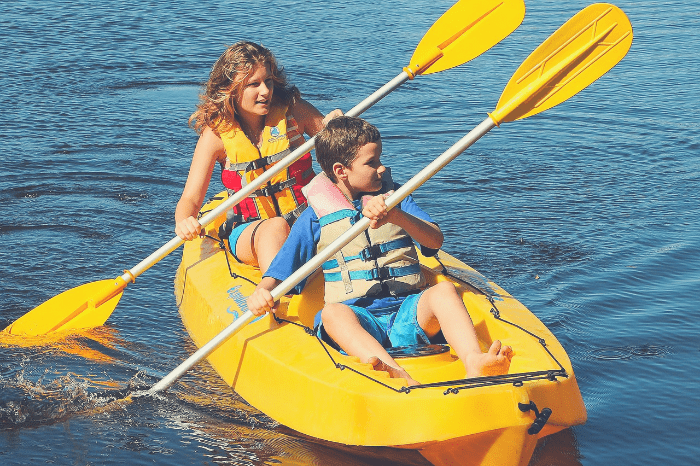 If you're looking to start your paddling career with a friend, you may prefer a tandem to a pair of singles.
Tandems are larger with a longer keel meaning that two coordinated paddlers can go faster than single kayaks. In many cases, there's more storage space and tandems are more stable.
Paddling a tandem with your child can provide more peace of mind and ensure that they stay close.
The greater stability is a big bonus and if they tire or get bored it's easier to get them back to shore.
If you have more than one child, some tandems have room for a smaller third person if you want to bring more than one kid out at a time.
Essential Features for Kids
In addition to the safety features you should bring on every kayak trip (life jacket, warm clothing, etc) there are a few more accessories you may want to consider for your kids.
If they're paddling their own single, a tow rope allows you to get them safely back to shore should they tire. Always secure your tow rope to a belt or clip that can be easily detached in case of an emergency.
If you live in a warm climate, swimming may be a part of your family's paddle day. If this seems likely, make sure your children's boats are outfitted with a paddle holder that will keep it secure when they jump in.
Anything that will improve a kayak's performance will go a long way to ensuring an enjoyable experience for both parents and children. Fins and skegs help a kayak track and will compensate for any inconsistencies in your paddle stroke.
A rudder controlled via foot pedals is a bit of a mixed bag. While a rudder can greatly enhance maneuverability, most child's size kayaks are short enough that they can be turned by any paddler regardless of their experience level. 
Kayaks for Kids – FAQ
What Type of Kayak Is Best for Children?
Stable kayaks are the best for children because the #1 priority is to make sure they don't capsize. Additionally, having good speed and maneuverability is important to help your child enjoy the experience and be able to safely avoid obstacles.
Are There Kayaks for Kids?
Yes, there are kayaks for kids. These specifically designed kayaks are generally much shorter (between 6 to 8 ft long) and lighter than adult kayaks.
Can a Child Use a 10-Foot Kayak?
Yes, a child 12 years or older can use a 10-foot kayak safely, especially if they're tall for their age. That said, if your child is younger than that, we'd recommend getting an 8-ft child kayak instead.
best kayak for kids – Conclusion
Stability and safety features should be the primary features you look for when selecting a kayak for your children.
Luckily many entry-level boats have prioritized both of these. I love the Malibu Tandem for its great stability and think paddling with your kids is the best way to introduce them.
But if you'd rather give them a single kayak, I'd feel confident outfitting them in the Aruba 10 from Sun Dolphin.
The fantastic stability and adjustable footpegs mean that it will continue to fit them into adulthood if they stick with the sport.
What do you think? What kayaks have your kids loved? Let us know in the comments below.