One of my favorite hobbies is taking my dog out on the water with me. But having the proper boat is important to ensure a safe and stable ride for all aboard.
If taking your puppy for a paddle sounds fun but you're not sure where to start, don't worry, we've compiled the best kayak for dogs in this article.
It doesn't matter if you're looking for a big boat for open water or a simple inflatable for the local lake, you'll find a boat you can paddle with confidence below.
Best Kayaks for Dogs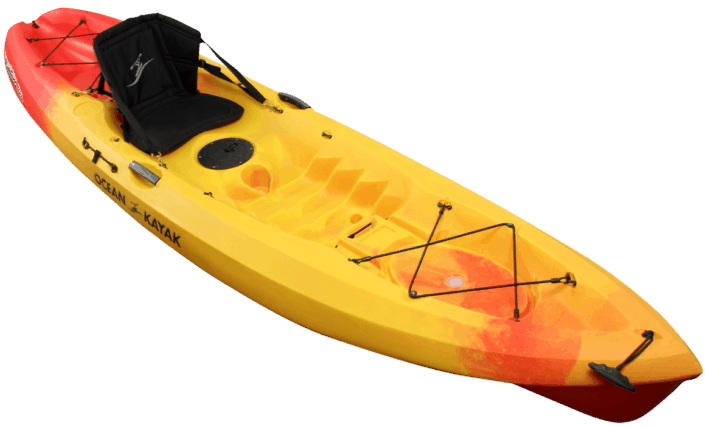 There are several stable sit-on-top designs that I'd feel comfortable paddling with a dog onboard like the Sun Dolphin Bali SS and the Old Town Vapor.
But the Scrambler from Ocean Kayak is bigger and wider than these two making it a better fit for dogs of all sizes.
The tri-form hull will allow you to handle ocean swells while maintaining your stability and maneuverability.
The seat is comfortable and adjustable while the big open deck ensures there's enough room for you and your furry friend no matter how much they want to move around.
There are two large storage compartments, one in the bow and stern. But they're open-air hatches where gear must be secured by bungee cords.
This and the sit-on-top design make the Scrambler a better choice for warm water paddling.
Uninspiring top speed
Great stability on the ocean
Lots of deck room
No dry storage space

Another big boat with plenty of room, this two-person model from Lifetime actually has enough room for three people.
Able to be paddled solo or tandem, you can rest assured that you and your pup won't feel cramped out there.
There isn't much in the way of extra features on this stripped-down design, but you will find three fishing pole holders and the boat does come with two basic paddles.
No other custom options have made their way into this design, although that does make it more cost-efficient.
Performance-wise it tracks well through moderate water conditions which is a pleasant surprise for a sit-on-top kayak this stable.
Three fishing rod holders but no other custom options
Best on lakes and rivers
500-pound load capacity
Best Inflatable Kayak for Dogs: Sea Eagle 330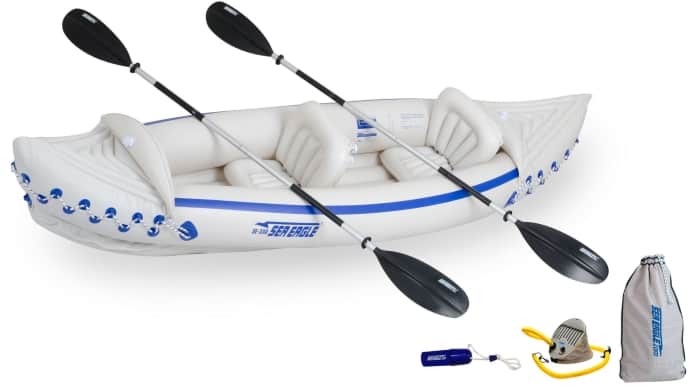 With a huge load capacity of 500 pounds, this blow-up kayak from Sea Eagle is the perfect inflatable for those with bigger canines.
Despite the bigger size, inflation remains relatively simple. Don't be surprised if it takes you less than ten minutes to get on the water once you get the hang of it.
The strong vinyl construction will stand up to the claws (and teeth!) of even the most nervous canine passenger, while the wide hull can handle moderate chop and absorb any waves created by passing motorized vessels.
If it gets too wet, the Sea Eagle 330 comes with optional spray skirts that provide additional protection from rain and wind.
Too cramped for two people and a dog
Massive load capacity
Easy to set-up and take-down
Best Tandem Inflatable Kayak for Dogs: Intex Explorer K2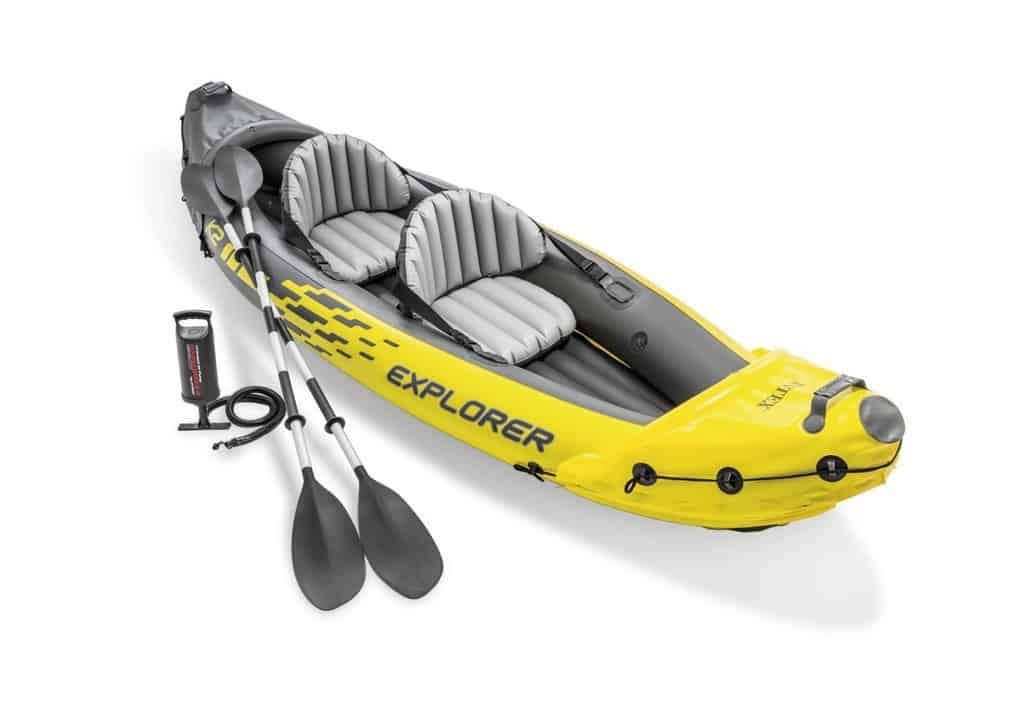 At its best on lakes and rivers, this double inflatable kayak from Intex Explorer is great for couples and their furry mariners.
Featuring some of the toughest vinyl in the business, the K2 has a puncture-resistant exterior that even the most ambitious dog won't break through.
On the water it performs well, especially for an inflatable. The floor has an I-beam construction and the boat comes with a removable skeg.
In tandem, this gives the boat excellent rigidity able to absorb waves and turbulent waters while maintaining its course.
That said, I wouldn't push it into too challenging waters or open water conditions.
400-pound load capacity
Multiple air tubes with Boston valves for durability and redundancy
Easy to transport at just 35 pounds when deflated
Read our comprehensive Explorer K2 review.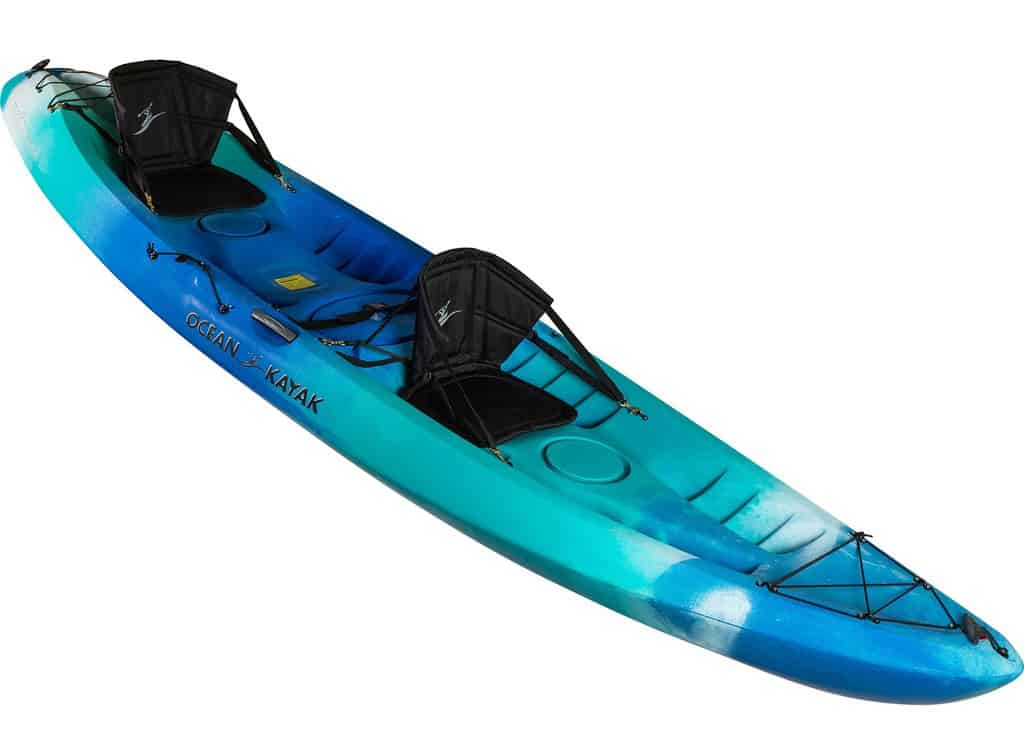 Designed for families that want to take their younger children paddling, the Malibu from Ocean Kayak has the deck space for two paddlers and a dog without anyone feeling cramped.
A specific middle seat between the two main cockpits is the perfect place for your doggie co-pilot to hang out without getting in your way.
It can also be paddled solo without compromising stability, giving you maximum flexibility no matter who wants to paddle.
Once on the ocean swells, the Malibu leverages its long 12-foot keel into a stable ride that tracks well as long as you stay below the 425-pound load capacity.
One of the few drawbacks is the Malibu is a little heavy, checking in at 57 pounds when empty which can make it a tough carry for some solo paddlers.
Can be paddled solo or tandem
Stable even if your dog is fidgeting
Multiple seat positions depending on how many people are paddling
Read our detailed Malibu Tandem kayak review.
How to Choose the Best Kayak for Dogs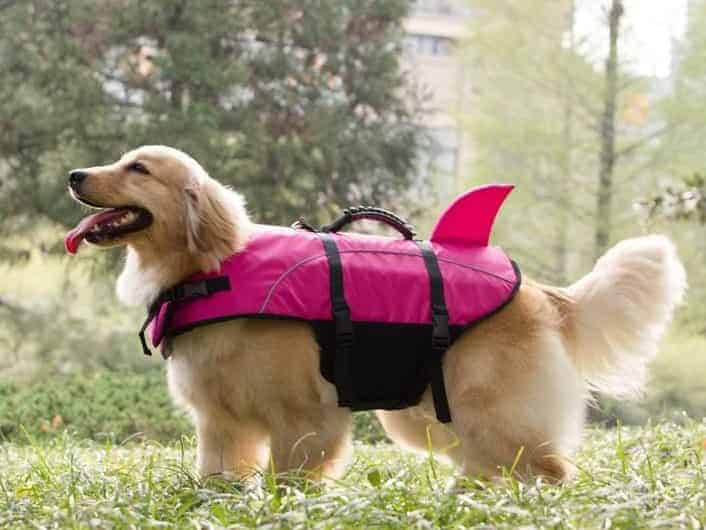 Dog-Friendly Material
Most plastic boats with their tough polyethylene plastic hulls can stand up to a dog's claws and teeth and suffer at worse minor cosmetic scratches.
Other hard-sided materials like fiberglass aren't good for dogs however as they're easily scratched and fiberglass can be easily punctured if stood on or bitten.
If you're going with a cheaper and easier to transport an inflatable kayak, make sure that it's well made. Look for a tough vinyl exterior that advertises itself as puncture resistant.
Even if you're not taking your dog, this is a good idea. Multiple air tubes provide insurance on the water. If one springs a leak the others will allow you to get back to shore without sinking.
Comfort & Space
I don't know about you, but my dog doesn't like to sit still for very long when we're on the water. So when I take him paddling, I want a boat that has enough space for him to safely move, turn, nap, and clean without getting in the way.
My recommendation is to select a tandem kayak like the Intex K2 or Ocean Kayak Malibu which are tandems that can be safely paddled solo without compromising their performance. This gives your dog a seat all to itself and you won't have to worry about them hindering your paddle stroke.
Stability
Probably the most important thing after durability in a dog-friendly kayak. You can't expect your canine companion to be perfectly still the entire time you're out.
Find a boat with a wide beam that will maximize stability and can absorb any sudden shifts in weight distribution.
Some kayaks, usually fishing kayaks, are rated as stable enough to stand up in, and if you're able to get your hands on one of these it may be for the best in case you have to get up to attend to your furry paddle partner.
Fishing vs. Recreational Kayaks
In most cases, you'll probably be selecting a kayak from one of these two categories. Fishing kayaks tend to make good boats for dogs even if they're not advertised as such.
Good angling kayaks have large, open decks that can handle a lot of sudden movements and shifting weight from the paddler. This fits perfectly with potential canine hijinks on the high seas that you may not be ready for.
Recreational kayaks are often marketed towards newcomers and as such have placed a priority on stability too. They're not the highest performing kayaks out there and some can struggle to track and have subpar speed. But with a dog on board, speed and difficult paddles probably aren't very high priorities.
Inflatable vs. Hard-Sided
We talked about this a little above, but you can feel comfortable going with both plastic or inflatable kayaks.
If you do go with an inflatable, don't go with the cheapest option, it's worth spending a little extra on one of the models above to make sure you're getting a high-quality material that won't burst the moment your dog climbs aboard.
Tandem vs. Single
Depending on the size of the single and your dog, you may be able to squeeze into a single kayak.
Tandems usually have more room, and if they're designed to be paddled either solo or tandem, allows you to give your pup a seat all to themselves.
Conclusion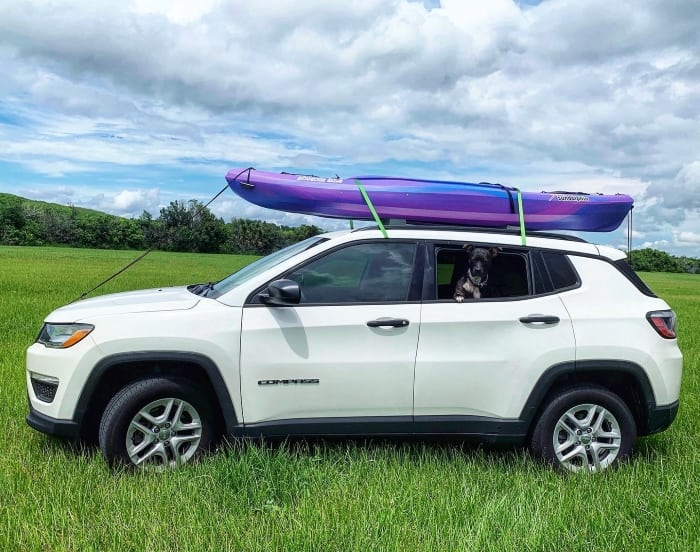 Taking your dog on the water can be a great experience for both of you. But selecting a stable boat with plenty of room can be the difference between going home happy and going home soaking wet.
For me, my favorite dog-friendly model is the Malibu from Ocean Kayak. I appreciate the stability as well as the flexibility to go on the open ocean with one or two people. Having the third seat is really convenient and there's still the storage space for my day pack.
What do you think of our list? Any good stories from your time on the water with your dog? Let us know in the comments below.