If you're on the taller or bigger side and love to kayak, then at some point you've been there.
You're trying to squeeze into a boat that was made for someone much smaller than you and all you want is to know what the best kayaks for big and tall people are.
You don't have to worry about finding a sturdy kayak anymore.
No matter your body type, in this article we'll cover the best kayak for big guys and the best kayak for tall guys.
Best Kayaks for Big and Tall Guys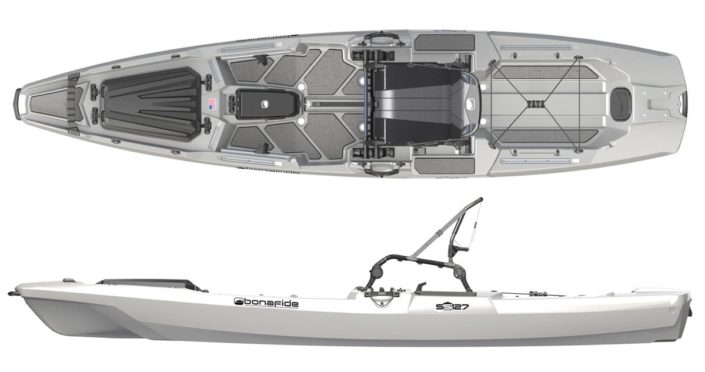 There's no better place to start than with this great fishing kayak that can handle ocean swells.
The Bonafide SS 127 has the weight capacity and ruggedness to handle anything you throw at it.
It's got great rear tankwell storage to fit a black pack and a cooler.
But what really sets it apart is that it's crazy stable. It's one of the most stable fishing kayaks and is suitable for paddlers up to 400 lb.
If you want to fall overboard, you'll have to throw yourself out of the boat because this baby won't flip. Ever.
Unbeatable stability for big guys
Fast enough
Great storage space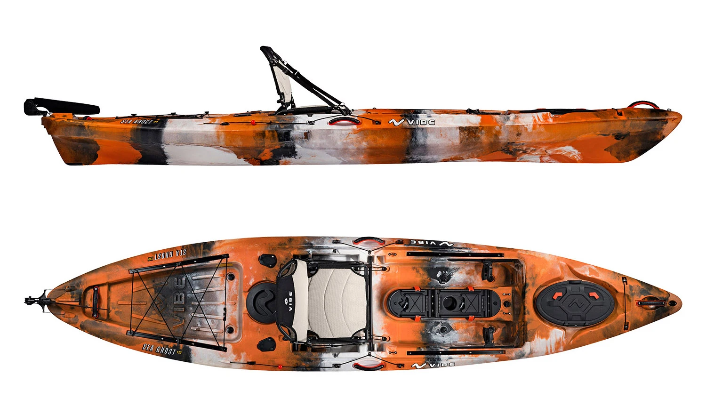 A big, beefy kayak, the Sea Ghost 130 from Vibe Kayaks has a sit-on-top design that gives you a lot of room to move around.
Add in the 550-pound maximum load capacity and this is a boat that can handle any tall guy and your fishing/camping gear with little trouble.
It is on the heavy side, checking in at 75 pounds but the easy-grip handles simplify tandem carries.
On the water, the Sea Ghost 130 feels sturdy underneath with impressive maneuverability that allows it to squeeze into areas other kayaks can't go.
But the main calling card is the boat's customization. Several strategically placed gear tracks allow you to outfit this perfect kayak to your precise specifications and a handy central console allows you to install a fish finder or GPS.
One of the heaviest solo fishing kayaks
Customization opportunities galore
Stable and responsive
Tons of storage space for multi-day outings
Read our full Vibe Sea Ghost 130 review.
The Bali SS 12 from Sun Dolphin won't knock your socks off. But at this price point, you're not going to find any kayaks that do that.
Instead what you get is a reliable, stable, and durable kayak that's responsive and versatile in one affordable package.
I was impressed with how well it tracked and the extra accessories that make your time on the water more enjoyable.
The adjustable foot braces are a must for big and tall paddlers and there's a watertight storage hatch for your more sensitive gear.
While the kayak stability is pretty good, this is partially because you sit lower in the seat which can make it tougher to get out of. They could have made the seat bottom more comfortable too. It's definitely worth buying a foam pad to give you a little more cushion.
No scupper holds can lead to a wet seat
Wide base (30-inches) for great stability
One of the most price-efficient kayaks out there

If you're looking for a cheap inflatable kayak that requires almost no storage space, look no further than the 370 Pro from Sea Eagle − the only tandem kayak on our list.
It's big for an inflatable, measuring twelve and a half feet long with a mammoth weight capacity of 650 pounds. Depending on your size, there's room for either two or three people.
This recreational kayak doesn't handle rough water as well as some of its newer contemporaries, but the three inflatable chambers and 34-inch beam make it stable and durable for its price tag.
At its best on calm lakes or low-key rivers, the design includes a pair of skegs to improve tracking should mild wind or waves crop up.
The inflatable seats are comfortable enough for big guys, but they're not the best I've ever sat in.
One of the biggest inflatable kayaks with a huge weight capacity
Not suited for whitewater or dynamic ocean environments
One of the top reviewed inflatable kayaks
Comes with paddles, a pump, a repair kit, and a carry bag

With a huge cockpit that measures 57-inches long, Wilderness Systems has developed a great kayak with long-legged and big paddlers in mind.
The Pungo 125 also has an extra six inches of legroom and the seat adjusts easily for maximum comfort.
Add in the removable console in front of the seat along with the thigh pads and you couldn't ask for a more accommodating boat.
There's ample storage with bow and stern storage hatches and bungee cord webbing while the 425-pound kayak's maximum weight capacity should allow for some weekend getaways.
It's a little narrower than some kayaks on this list at 29-inches, but it should still be more than stable even for big guys.
The central console has molds for a drink holder, fishing tackle, or a camera
Foot and knee braces allow for a custom fit
Solid stability and tracking

Built with a ton of gear storage, the Old Town Loon 126 has room for a paddler of any size and their gear.
If you want you can also use the space for a small second person or even your canine companion if you want the company.
Like the Pungo 125, there's a removable "work deck" to provide more room when you're getting in and out of the boat or if you require more storage capacity. They've even included a USB charging port!
The seat is really comfortable which is invaluable on longer trips and the easy-to-adjust seatback allows you to shift in mid-paddle if you need to.
It's at its best on calm water, though I'd feel comfortable taking it out on the ocean as long as the weather forecast is promising.
High weight capacity kayak for big guys
One of the roomiest kayaks for larger paddlers
Large watertight stern hatch
Finding a good whitewater kayak is challenging for big and tall people. Most in this category are narrow sit-inside kayaks with tight cockpits to allow for better maneuvering around rapids. But Pyranha has managed to meld the best of both worlds.
With a 286-pound weight capacity, the Fusion DLX can accommodate most paddlers and their day gear.
Being a sit-on-top kayak, it gives you a little more room to move and adjust, though splashing waves will get you wet.
The seat backrest and thigh straps take the place of a sit-inside's cockpit and keep you secure.
When you're not on the whitewater, the boat has a removable skeg to enhance the boat's somewhat questionable tracking and gives it the versatility to handle calmer water too.
Unique sit-on-top design gives you more room for your legs
Retractable skeg for improved versatility
10-feet, six-inches long and 56 pounds
How to Choose the Best Kayak if You're Big and Tall
Check Your Kayak's Dimensions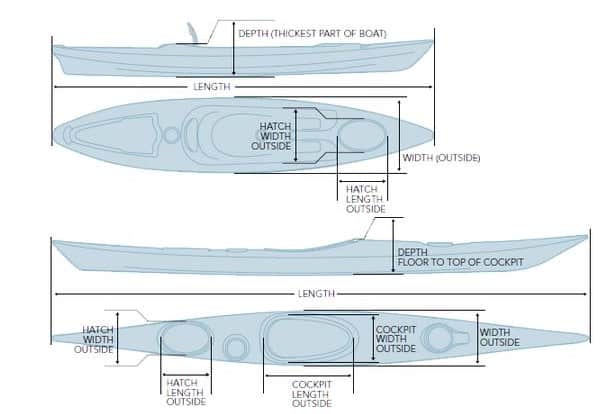 You can look at a kayak's specifications and read reviews from fellow big and tall paddlers, but there's no substitution for sitting in your kayak before you buy it.
If possible, visit your perspective model in-store and try it out, bearing in mind that it will be more challenging to get in and out of when you're on the water.
In most cases the longer a kayak the more legroom you'll have. This can vary though depending on the design of your boat (sit-inside, sit-on-top, etc). For a sit-inside kayak, check the dimensions of the cockpit opening and make sure that the boat has adjustable foot braces and seatback.
Some boats have a higher deck which gives the paddler more room for larger feet. This is especially important if the boat has a rudder that is controlled via foot pedals.
Finally, make sure you know what the boat's weight capacity is. This refers to the total weight that the boat can carry, including the paddler.
If a boat is overloaded it will sit lower in the water which can make the kayak sluggish and less responsive. Stability can also be compromised and can make capsizing much easier.
Consider What You Plan on Doing the Most
Once you know what kayaks will fit, it's time to determine what sort of paddling you plan on doing.
If most of your trips will be on calm mellow lakes on sunny afternoons, then you can probably save some money by going with a cheaper plastic or inflatable kayak. These are easier to transport and store and come with a lower price tag.
If taking your family or dog is in your plans, make sure that you have room in the kayak for extra passengers and that the material is durable enough to withstand a dog's nails.
If your paddling includes some more ambitious trips, you'll probably need a more expensive kayak.
Fishing kayaks in particular are worth the extra money as the higher-end models come with a lot of customization features and fishing rod holders.
The same can be said for multi-day or "touring" trips. Extra storage area is paramount and a longer keel and narrower design will make for faster, more efficient paddling.
Make sure your touring kayak has a comfortable seat with adjustable foot pedals and maybe thigh braces to make those longer paddle days more tolerable.
Sit-In Vs. Sit-On-Top Kayaks
The two primary kayak design types, there are several differences between the two models.
Sit-in kayaks have a defined "cockpit" that the paddler sits inside that protects their legs and lower torso. This makes them good in wet or cold environments where the cockpit can be enclosed by a spray skirt.
Since you sit inside the boat, your center of gravity is lower which makes sit-in kayaks more stable and allows their design to be narrower, faster, and less likely to be blown off course by wind or waves. This makes them popular choices for longer trips or for those that need a higher-performing boat.
A sit-on-top kayak gives the paddler more room since there's no defined cockpit which makes them easier to get in and out of. There's no way to protect you from splashing waves or rain however and to compensate for this, sit-on-top kayaks sit higher in the water to protect you.
This can make them more unstable, so to counteract this sit-on-top boats tend to be wider to maintain stability. This doesn't mean that there aren't high-performing kayaks out there. Many high-end angling models fit this category and can still move at a decent speed with plenty of storage area. Most recreational and entry-level kayaks fit into this category.
Conclusion
Any experienced big or tall person can tell you horror stories about trying to pretzel themselves into a kayak designed to fit someone much smaller than them.
But if you're going to buy a kayak of your own, there's no reason not to find one that fits like a glove.
Thanks to its massive stability and ability to handle open ocean conditions, the Bonafide SS 127 is the best kayak for big guys. The included rod holders and massive storage space allow you to be out as long as you like, and all the room means you can bring a second paddler if you like.
Wilderness Systems Pungo 125 is another competitive model. I love the clever removable deck for added space that makes getting in and out much easier. Add in all the storage space and the narrower design and you've got another boat that can be out for several days.
What do you think of our list? What's the most comfortable kayak you've ever paddled? Got any good stories from your last time out on the water? Let us know in the comments below.