As kayak fishing has grown in popularity, the variety of paddling options has increased with it.
You may not have the money or interest to invest in one of the top-of-the-line kayaks out there, but rest assured, there's plenty of mid-range and entry-level boats for you to enjoy.
In this article, we'll talk about some of the best fishing kayaks under $1000.
Whether you're looking for a boat you can safely stand in, a tandem, or just the best overall, you'll find what you need below.
Best Fishing Kayaks Under $1000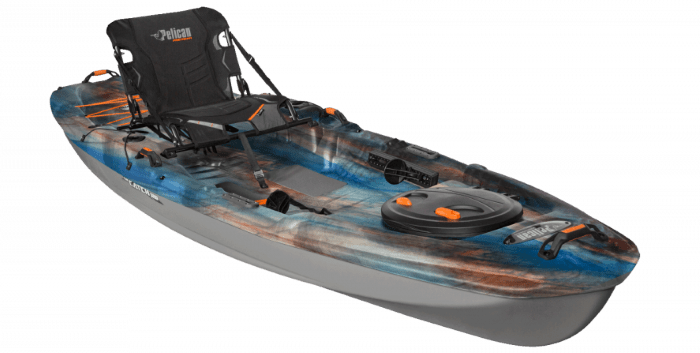 Thanks to the pontoon hull, the Pelican Catch 120 gives you the confidence to stand and cast with no fear.
For those that would rather sit than stand, the seat has two height settings, a lower one for travel and a higher one once you reach your fishing hole and need a better vantage point.
There are not quite as many customization options as you'll find with kayaks further down on this list, but two accessory "eyelets" let you add some character to your boat along with a pair of rod holders.
Heavier weight of 69 pounds can be hard for some solo paddlers to transport
Wider hull decreases top speed
Incredible stability
Storage and load capacity for multi-day trips
Read our full review of the Pelican Catch 120.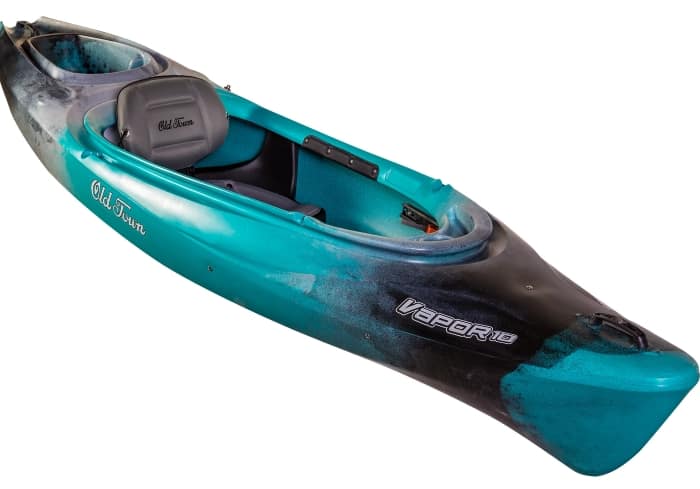 While some sit-in kayaks are cramped with hardly enough room to move your legs, the Vapor 10 from Old Town is one of the most spacious in its class.
With room for paddlers of all sizes to sit comfortably, the Vapor 10 utilizes a streamlined design to coax the most out of its ten-foot-long keel.
Add in the 325-pound weight capacity and this is a fishing kayak to meet all of your day paddling needs.
Its shortcomings lie in the lack of customization options that many competing kayaks offer. At this price range not having a way to install a fishfinder is understandable, but just a rod holder or two would be nice.
Few customization options
Molded-in paddle rest
Lots of room for a sit-in
Read our full review of the Old Town Vapor 10.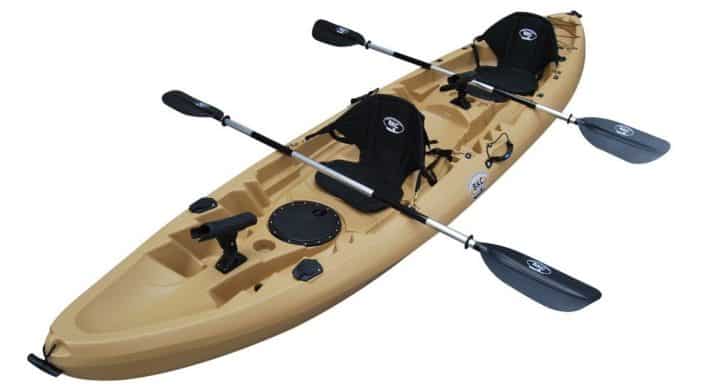 Most plastic tandems are big, heavy, and a pain to move. Not this model from Brooklyn Kayak Company.
Checking in at just 70 pounds it's one of the lightest tandems on the market and should be manageable for most folks.
There's plenty of deck space with room for a third person or a well-behaved canine without sacrificing durability.
Maneuverability is impressive for a tandem kayak and there's plenty of storage space, although a lot of it is open-air.
No keel or rudder
440-pound load capacity
Six(!) rod holders

Fair warning, there's not a lot of pedal kayaks under the $1000 threshold, and depending on the dealer and time of year, the Riot Mako 10 may play hopscotch with that four-figure limit.
But the advantages of a pedal kayak are worth this gray area with the ability to cast or troll while you move.
Capable of weekend-long trips, the Mako 10 is one of the lightest pedal kayaks checking in at 65 pounds.
Storage space is abundant thanks to innovative little cubbies built into the hull to store your lunch and spare tackle.
While most pedal drive systems are made of metal which is more durable but susceptible to corrosion, the Mako 10's is plastic so you can take it into saltwater without any fear of rust.
No footrests which can make it hard to get comfortable
Stable enough platform to stand and cast from
Rudder control can be moved from the right to the left side if it interferes with your casting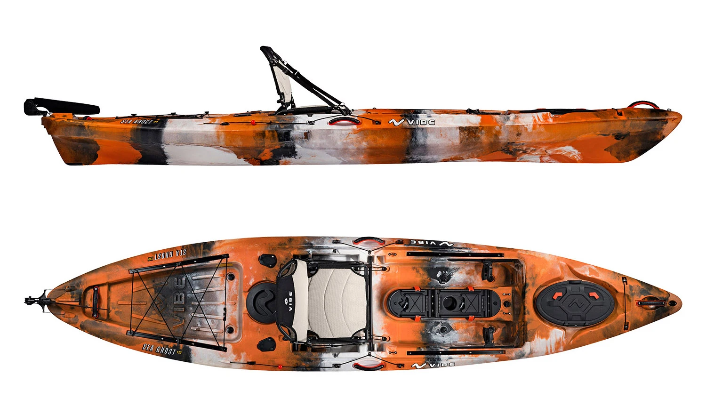 Some kayak companies try to diversify and offer a kayak model for every type of paddling. Vibe is not one of those companies. They do one thing and they do it well. The product of this one-track thinking is the Vibe Sea Ghost 130.
With the appropriately named "hero seat," Vibe has one of the most comfortable kayak seats on the market that will keep you paddling and fishing all day.
Multiple gear tracks and rod holders allow you to outfit the Sea Ghost 130 any way you want.
The well designed central console provides additional storage space and a place where a fish finder can be installed.
Add in the 550-pound weight capacity, streamlined design, and impressive stability, and you have a boat capable of casual day trips and more intensive backcountry adventures.
All the bells and whistles do make it heavy for a single kayak and the Vibe Sea Ghost 130 checks in at 75 pounds. The bow and stern hand grips do make carrying it easier, but will probably require two people to move it.
There's no beating the "hero seat" for comfort
Tons of customization options
Flexibility for day and multi-day trips
Read our full Vibe Sea Ghost 130 review.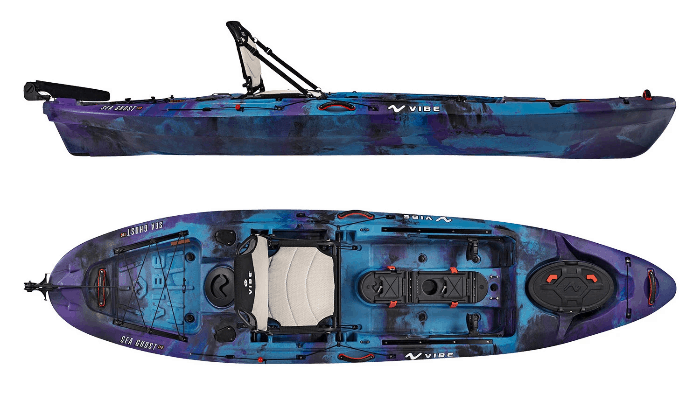 The little brother to the Sea Ghost 130, the Sea Ghost 110 includes many of the same features at a more affordable price.
The weight capacity is a little lighter at 500 pounds and it's not as fast as the big brother, but the "hero seat" and customization options are still here.
If you like the design of Vibe's boats but don't have the money for the most up to date model, the Sea Ghost 110 is a perfectly acceptable substitute able to do almost all the things the Sea Ghost 130 can at a cheaper price point.
Similar design and performance to the Sea Ghost 130
Large enough load capacity for multi-day trips
Integrated rudder system for enhanced tracking
Read our full Vibe Sea Ghost 110 review.
How to Choose the Best Fishing Kayak Under $1,000
Sit-In Vs. Sit-On-Top
The two main kayak categories, most fishing kayaks fall under the latter. For fishing, sit-on-tops give you more room to move about and are less constraining when you're casting with more accessible storage areas and room for extra tackle and fishing rods.
But if you live in a cold or rainy environment, a sit-in may be the better choice. Sit-in kayaks have a defined cockpit that protects your legs and lower torso that you can further protect by wearing a spray skirt.
You're also seated lower in the kayak which enhances their stability and allows them to be more streamlined and faster. This can make them a good choice if you foresee yourself doing long trips that will require hard paddling over serious distances.
Sit-On-Top models place you higher above the water to keep your exposed legs from getting splashed and because of this require a wider beam to compensate for your higher center of gravity. Multi or pontoon-style hulls enhance stability but can make them slower and more susceptible to a nasty headwind or tides.
The higher sitting position does give you a better vantage point on the water and makes it easier to spot schools of fish.
Do You Want to Stand & Cast?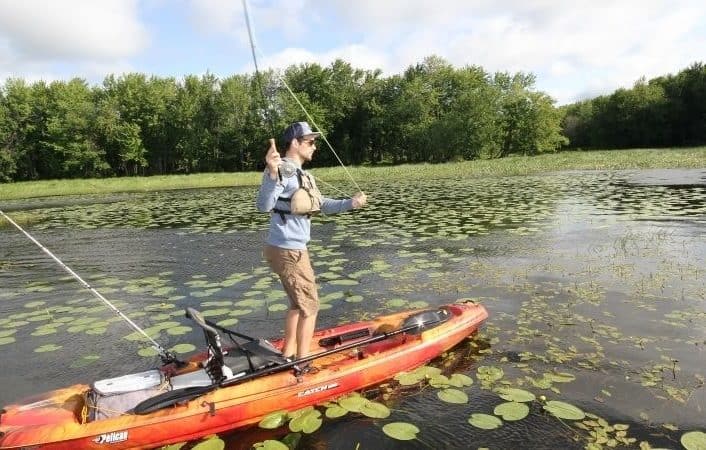 Speaking of better vantage points. There's no substitute for being able to stand and look down on your quarry. A lot of fishing kayaks are designed with enough stability to let you safely stand and cast without the risk of tipping over.
Not all stand-up kayaks are created equal so make sure you check the specifications from the manufacturer before you purchase.
Some kayaks are only safe to stand in if the conditions are perfectly calm while others are more forgiving and can handle your shifting body weight in mild chop or as you float a river.
Paddle Vs. Pedal Kayaks
You can still paddle a pedal kayak, but the pedal drive system lets you propel yourself across the water much like you're pedaling a bike.
The advantages are obvious since you have your arms free to cast, troll, change hooks, or grab a snack while in motion.
While pedal kayaks do tend to move faster since you're using the bigger muscles in your legs to create force, there are a few drawbacks.
The most noticeable one is the cost. The pedal drives tend to be intricate and they're generally stocked with useful features that can push the cost comfortably into four figures.
They're also longer and heavier, so be prepared for more logistics and enlisting some help to get it to the water.
Lastly, the pedal drive systems will need more maintenance to keep the moving parts in working condition, especially if you're on saltwater which can corrode and damage.
Storage Capacity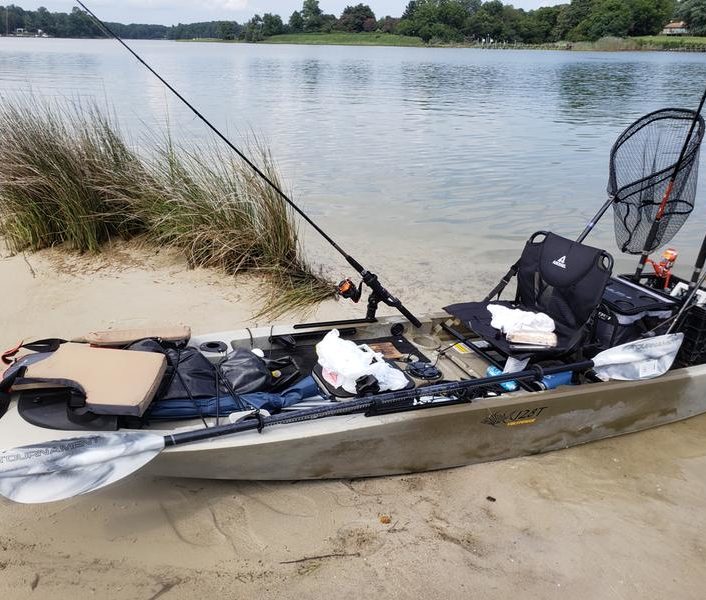 Most fishing kayaks come with large tub-like storage space behind the seat where gear like a cooler or tackle box can be secured with bungee cords. This works great for larger items that you don't mind getting wet, but make sure your boat has some watertight storage too.
This is especially important if you plan on doing longer trips where you'll be bringing more moisture sensitive gear like extra clothes, a tent, and a sleeping bag.
Also look for a smaller central console directly in front of the seat. This is usually another watertight hatch and the perfect spot for spare lures and personal items like wallet and car keys.
Short or Long Trips?
Along with plenty of storage space, there are a few other specifications your boat should have if you plan on going out overnight.
Check the boat's load capacity to make sure that it can hold all your weight and remember that the load capacity includes your weight too.
Choose a boat with decent top speed to cut down on travel time and that will move through the water efficiently so you don't have to exert too much energy in transit. Faster boats have a longer keel and tapered prow to minimize drag on the water.
Lastly, sit in your kayak before you buy it. Make sure the seat is comfortable and adjustable with plenty of padding.
Foot braces should be adjustable so you can set your boat up to your exact specifications. Few things will ruin the joys of kayaking quicker than a seat you can't stand sitting in.
Other Features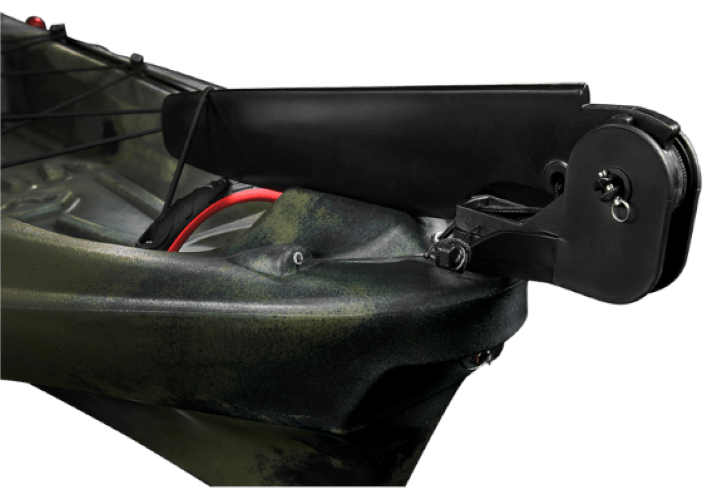 Today's fishing kayaks come filled with features in customization options no matter the price range and you don't want to miss out on them.
Known by a variety of names, these "gear tracks" or "accessory mounts" are essentially adaptor ports that allow you to outfit your kayak with whatever you think will help catch the most fish. Whether it's a fish finder, a GPS, extra rod holders, or a GoPro, they add personality and uniqueness to your kayak.
While it's more common in more basic entry-level designs, some kayak companies sweeten the deal further including paddles or (if the boat is an inflatable) an air pump.
To improve tracking and turning, some boats come with a skeg or rudder that can be controlled via foot pedals. If you think you'll be transiting some rough or unpredictable water, it's a good idea to choose a boat that at least has the option to have one of these two features installed either at home or by a professional.
Tandem or Single?
While some kayaks (most often entry-level inflatables) are able to be paddled either solo or tandem, the majority of hard-sided kayaks are strictly defined.
Tandems have a longer keel and are heavier. But when two people are paddling in sync, they can move appreciatively faster than two singles. Tandems should always be paddled by two people as they are awkward and unresponsive when paddled solo which can make them dangerous.
Singles give you the chance to get on the water solo and not wait for a second person to be available. They tend to be easier to maneuver and more responsive though some can be tippier than tandems.
Color Choices
This doesn't matter too much and many kayaks come in a range of colors.
If you plan on being out on your own and in remote locations, I'd recommend choosing a bright color in the event of an emergency so you're easier for search and rescue crews to spot.
Always tell someone where you're going and the color and make of your kayak.
Conclusion
Even if you're shopping in a tight price range, there's plenty of fishing kayaks that you can choose from.
I love what Vibe is doing with their designs and the Sea Ghost 130 represents one of the most price-efficient kayaks out there.
If you want to push the $1,000 limit, the Mako 10 Pedal kayak from Riot will give you a taste of these higher-end boats without having to worry about corroding metal parts.
What do you think of our list? What'd we leave out? Let us know in the comments below.